The latest business news as it happens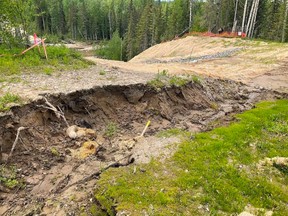 Article content
Today's top stories
Article content
---
5:30 p.m.
Coastal GasLink fined $340,000 for erosion, sediment control issues
Coastal GasLink has been fined $340,000 by the B.C. Environmental Assessment Office for issues related to erosion and sediment control.
Coastal GasLink, which is owned by Calgary-based TC Energy Corp., says the fines stem from four inspections of its ongoing pipeline construction project that occurred in April and May of 2022.
Those inspections took place before Coastal GasLink signed a compliance agreement requiring the company to ensure erosion and sediment control measures are incorporated into its construction plans.
Erosion and sediment control have continued to be ongoing issues for the project, most recently resulting in a temporary construction pause on a 20-kilometre stretch of pipeline.
Coastal GasLink is now more than 94 per cent complete and on track for mechanical completion at the end of this year.
The 670-km pipeline spanning northern British Columbia will carry natural gas across the province to the LNG Canada processing and export facility in Kitimat, B.C.
Article content
— The Canadian Press
---
4:50 p.m.
Market close: Canadian, U.S. markets tumble after central bank comments on interest rates
Losses in base metal and technology stocks helped lead a broad-based decline today as Canada's main stock index fell more than two per cent.
U.S. stock markets also tumbled the day after the U.S. Federal Reserve's latest rate decision.
The S&P/TSX composite index closed down 423.07 points at 19,791.62.
In New York, the Dow Jones industrial average was down 370.46 points at 34,070.42. The S&P 500 index was down 72.20 points at 4,330.00, while the Nasdaq composite was down 245.14 points at 13,223.99.
— The Canadian Press
---
4:08 p.m.
IA Financial cuts jobs in capital markets business, ends institutional operations
IA Financial Corp. is cutting jobs in its capital markets business, ending its institutional activities including equity research.
"We are stopping all institutional operations within IA Capital Markets," a spokesperson for the Canadian financial firm confirmed in response to inquiries from Bloomberg News. The distribution of the firm's research will end immediately, according to a memo.
Article content
The company, based in Quebec City, said more than a dozen jobs were eliminated. It will focus on its other services, which include financial advice and asset management for individual investors.
"We are deeply committed to ensuring Canadian investors continue to have deep and broad access to the professional, independent (unbiased) financial advice and investment solutions that are the hallmark of IA Wealth," spokesperson Pierre Picard said in an email.
Picard said the move was prompted by market conditions that have been "very challenging over the last two years with rising interest rates" as well as "challenging corporate deal flow volume."
— Bloomberg
---
3:19 p.m.
Ontario Premier Doug Ford announces reversal of Greenbelt land removals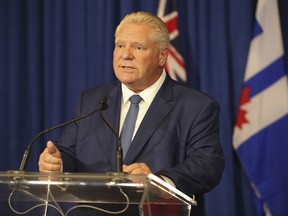 Ontario Premier Doug Ford says he is reversing his plan to open the protected Greenbelt lands for housing development and won't make any changes to the Greenbelt in the future.
While meeting with his caucus during a retreat this week in Niagara Falls, Ont., Ford says his caucus members shared with him what they have been hearing about the Greenbelt from people in their communities and he is listening.
Article content
Last year, the province took 7,400 acres of land in more than a dozen sections out of the Greenbelt to build 50,000 homes, citing the housing crisis, and Ford has faced large amounts of opposition to the plan since then.
Reports from the auditor general and integrity commissioner found that the process to select lands was rushed and favoured certain developers.
Ford says today that he is sorry that he broke his original promise not to touch the Greenbelt, and it was a mistake to open it up for development.
He says in order to earn back people's trust he will be reversing the changes he made to the Greenbelt and putting the lands back under Greenbelt protections.
— The Canadian Press
---
1:19 p.m.
Alberta entitled to half Canada Pension Plan assets, report says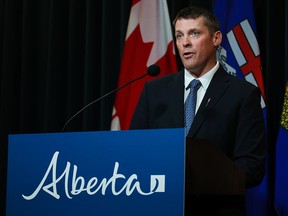 CALGARY — A report commissioned by the Alberta government estimates the province would be entitled to more than half the assets of the Canada Pension Plan if it were to exit the national retirement savings program and go it alone.
A third-party report compiled by consultant Lifeworks released today calculates that if Alberta gave the required three-year notice to quit CPP next year, it would be entitled to $334 billion, or about 53 per cent, of the national pension plan's pool by 2027.
Article content
Alberta would be the first province to quit CPP; Quebec never joined when it was set up in 1965.
Finance Minister Nate Horner said given Alberta's young workforce and growing economy, the province has no choice but to let residents choose whether to have an Alberta Pension Plan.
"We have a responsibility to present these findings to Albertans and gather their feedback. Albertans will make the final decision on where we go from here. It's your pension, your retirement and your future," Horner said in a news release.
He said the Alberta plan could save residents $5 billion in the first year.
Going it alone on pensions was one plank of former United Conservative premier Jason Kenney's plan to fight for a "fair deal" with Ottawa. It also included a potential Alberta police force and tax revenue agency.
The report estimates setting up an Alberta plan would cost between $100 million and $1 billion, depending on how much the province piggybacks on CPP mechanisms.
The cost of implementing the investment arm of an Alberta plan would be another $75 million to $1.2 billion, again depending on how much the province taps into existing structures and expertise.
Article content
— The Canadian Press
Read more: 'Impossible' for Alberta to exit with half of CPP assets, pension fund official says
---
12 p.m.
Midday markets: Stocks tumble on Fed jitters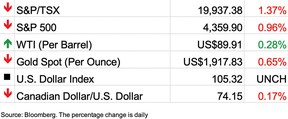 Losses in the base metal and technology stocks helped lead a broad-based decline as Canada's main stock index fell nearly 300 points in midday trading and U.S. stock markets also tumbled after the United States Federal Reserve said interest rates would be higher for longer.
The S&P/TSX composite index was down 277.32 points at 19,937.38.
In New York, the Dow Jones industrial average was down 161.94 points at 34,278.94. The S&P 500 index was down 42.30 points at 4,359.90, while the Nasdaq composite was down 160 points at 13,309.13.
"There's a post-Fed hangover in the market this morning and dark clouds over Wall Street," according to strategists at Bespoke Investment Group. "After the market followed the recent Fed-day script nearly step for step yesterday, international markets continued the downward trend overnight, and U.S. markets are picking up right where they left off yesterday."
— The Canadian Press, Bloomberg
Article content
---
11 a.m.
Liberals target housing crisis with bill to remove GST off rental developments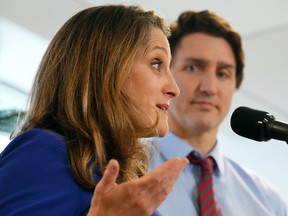 Finance Minister Chrystia Freeland introduced legislation this morning that would remove GST charges from new rental developments and update the country's competition law.
Prime Minister Justin Trudeau promised the new legislation earlier this month to address the housing crisis and affordability crunch.
Experts have called on the federal government to remove GST charges off new purpose-built rentals to help spur construction of these kinds of homes.
The bill is also supposed to strengthen the Competition Bureau by giving it the power to compel information from companies to conduct studies, tighten up merger laws and go after collaborations that stifle competition.
The changes to the Competition Act follow a promise from the Liberals to review the law.
Freeland, along with several other cabinet ministers, are to hold a news conference this afternoon about the new legislation.
— The Canadian Press
---
10:30 a.m.
Auto, credit card, mortgage fraud rising amid consumer squeeze: Equifax
Article content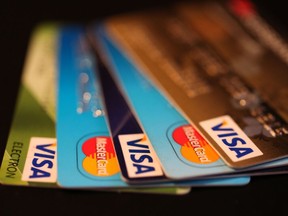 Fraudulent activity is on the rise in the automotive, credit card and mortgage sectors, according to new data from Equifax Canada.
Fraudulent applications in the automotive sector are up 28 per cent, Equifax said. In credit cards, the fraud rate is up 37.9 per cent while in the mortgage sector it's up 18.8 per cent year over year.
The credit monitoring company says the higher fraudulent activity is a direct result of increased financial pressures people are facing thanks to a higher cost of living. In the mortgages sector, fraud could go even higher still thanks to the impact of elevated interest rates on borrowing costs.
"With respect to mortgages, some homebuyers hoping to enter a pricy real estate market are willing to fudge their salary numbers on an application," Carl Davies, head of Fraud and Identity at Equifax Canada, said in a release. "This isn't just a 'little white lie'— it's fraud. It's a serious crime.
"If interest rates remain high, this trend could easily accelerate in the months ahead."
— Financial Post
---
9:30 a.m.
Stock markets are open: Fed's hawkish stance weighing down equities
Article content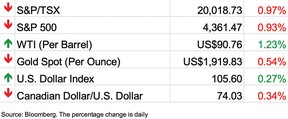 North American stocks retreated, while U.S. Treasury yields rose alongside the U.S. dollar after the latest reading on jobless claims just reinforced the case for the United States Federal Reserve's higher-for-longer stance.
The S&P 500 dropped below 4,400 and the Nasdaq 100 lost about one per cent.
The S&P/TSX composite index fell 195.63 points to 20,019.07 in early trading.
---
9:18 a.m.
Rupert Murdoch steps down as chairman of News Corp, Fox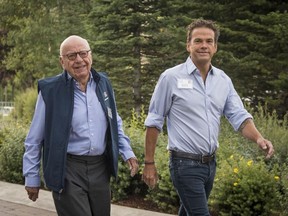 Rupert Murdoch is stepping down as chairman of the boards of Fox Corp. and News Corp., and will become chairman emeritus of each company.
His son Lachlan Murdoch will become sole chairman of News Corp. and continue as executive chair and chief executive of Fox, the company said in a statement Thursday.
"On behalf of the Fox and News Corp boards of directors, leadership teams, and all the shareholders who have benefited from his hard work, I congratulate my father on his remarkable 70-year career," Lachlan Murdoch said.
In a letter to Fox employees, the elder Murdoch said "the time is right for me to take on different roles," adding that "our companies are in robust health, as am I." He promised he will still "be involved every day in the contest of ideas."
Article content
"The battle for freedom of speech and, ultimately, the freedom of thought, has never been more intense," he wrote.
Rupert Murdoch, 92, has been one of the most influential and controversial figures in media. He has held sway over public opinion via a global empire that included tabloids, sophisticated press like the Wall Street Journal and television properties in the U.S. and the U.K.
His stepping aside leaves his son in charge of a global media empire Murdoch created from a local newspaper in Australia.
— Bloomberg
Read the full story here.
---
7:45 a.m.
Bank of England holds interest rates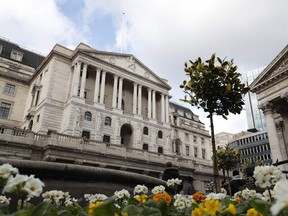 The Bank of England held interest rates at 5.25 per cent, a knife-edge decision which split policymakers almost down the middle and ending a run of 14 successive hikes.
Slowing inflation, a rise in unemployment and a fall in July's GDP fuelled Thursday's decision, as the majority of policymakers decided that interest rate rises are slowing inflation.
The decision will raise hopes among Britain's hard-pressed mortgage borrowers that rate rises are now over.
U.K. stocks erased losses, defying a broader selloff in Europe, after the decision.
Article content
The move softens the blow to the region's equities after the United States Federal Reserve's hawkish message on monetary policy hit risk sentiment.
— The Telegraph, Bloomberg
---
7:30 a.m.
Alberta set to release report on ditching CPP for its own pension plan
The Alberta government is set to release its long-promised report on whether the province should quit the Canada Pension Plan and pursue its own provincial program.
United Conservative Premier Danielle Smith, along with Finance Minister Nate Horner and panel chair Jim Dinning, are to release the report at a news conference in Calgary on Sept. 21.
The Opposition NDP says it has received leaked details of what is coming and says Albertans should prepare for some financial flim-flam on the potential benefits.
NDP finance critic Shannon Phillips says the report relies on an outdated financial withdrawal formula dating back to the CPP's creation in the mid 1960s.
"The report is expected to claim Alberta is owed hundreds of billions of dollars from the fund," Phillips said in a statement Tuesday.
"However, if every province used this formula, it would total nine times what is currently invested in the CPP."
Article content
The Opposition NDP has accused Smith of playing politics with nest egg savings, by using an Alberta pension plan to create a wedge issue with the federal government.
The NDP said the idea is offside with public sentiment, given opinion polls suggest ditching CPP is deeply unpopular with Albertans.
— The Canadian Press
Read more.
---
Stock markets: Before the opening bell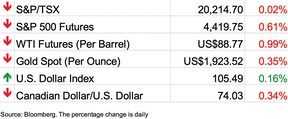 World shares declined, echoing a slump on Wall Street after the United States Federal Reserve said it may not cut interest rates next year by as much as it earlier thought.
Benchmarks fell by one per cent or more in Paris, Tokyo, Sydney and Hong Kong. U.S. futures slipped and oil prices also were lower.
---
What to watch today
The Alberta government will release a report on whether it should leave the Canada Pension Plan. The report lands at 11 a.m., Calgary time.
The Bank of England delivers its latest interest rate decision.
New housing price index data is coming at 8:30 a.m. from Statistics Canada. In the U.S., initial jobless claims and August existing home sales data will be released.
Need a refresher on yesterday's top headlines? Get caught up here.
Related Stories
Bank of Canada mulled rate hike in face of stubborn inflation

David Rosenberg: We're calling bull on the 'new bull market'
Additional reporting by The Canadian Press, Associated Press and Bloomberg
---
Bookmark our website and support our journalism: Don't miss the business news you need to know — add financialpost.com to your bookmarks and sign up for our newsletters here.