Home Improvement

Ask the Remodeler's Mark Philben offers advice on how to handle some of the biggest challenges.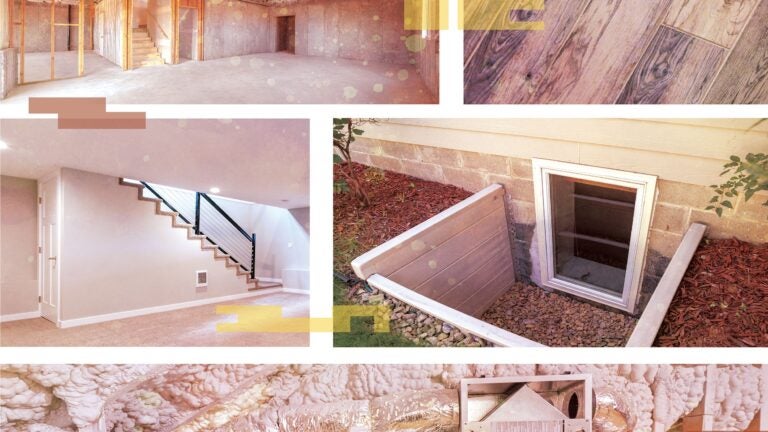 Quite a few readers have questions about basements, finished ones and those ready for a remodel. Basements tend to be a cost-effective way to add living space to your home. Given the wide variety and the age of basements and foundations in New England, there is no single tutorial that could capture the myriad challenges you may face. But planning ahead is key, so I will break down some of the key things you should consider before finishing your basement home improvement project.
Space planning
Basements need a minimum finished ceiling height of 6 feet 8 inches. Allowances are made for soffits that wrap around beams and utilities. These can be as low as 6 feet 6 inches. Do you have the height to finish your space? Lowering your floor or raising your foundation can be laborious and expensive.
The stairs to your basement need to be brought up to code. The vast majority don't meet regulations, but the building departments we deal with typically will allow us to work with what is there as long as we bring the handrails to code and make the treads and risers as safe as possible.
If you want to build a bedroom down there, there needs to be at least one emergency egress window. This will almost always involve cutting your foundation to fit in the requisite-sized window and adding a code-compliant window well on the outside. The exterior window well needs to be 36 inches by 36 inches, which can be tricky to place. The window itself needs to have a minimum opening of 24 inches high by 20 inches wide, and it can be no more than 44 inches off the finished floor. You also need to take property lines, outdoor utilities, etc. into account.
We do not use metal stud framing in basements. Setting the wood framing off the foundation wall by 1 inch or so allows us to spray closed-cell insulation into the stud bays, which also helps with moisture control.
A bathroom is part of many basement renovations. Depending on where the main sewer line leaves the house (above the basement floor or below it), you may need a mechanical pump to allow the basement bathroom to drain properly.
Moisture control
Something I mention fairly often is to make sure your gutters and downspouts are set up to pull water away from the house, not to dump water that forms pools up against the foundation. Proper grading away from the house also helps with moisture control.
With homes on high water tables or that have a history of moisture problems, we recommend installing a French drain around the perimeter below the floor. This subsurface drain will collect the water and discharge it outside. We also recommend attaching a drainage sheet to the interior foundation wall to divert moisture into the French drain.
Not all homes need something as elaborate as a French drain. Lately, we are installing more whole-house dehumidification systems to remove excess moisture that can slowly build up in a basement space. These systems can also remove moisture from the upper floors as well, which can help take the strain off your home's cooling system. They are set to a desired level of humidity and will run automatically for most of the year.
Indoor air quality
Basements and tightly insulated spaces often need to exchange room air continually to maintain a healthy environment. The two most common ways to do this is with either a heat recovery ventilator or an energy recovery ventilator system. HRV and ERV systems work in a similar way. They both exchange air with the outside and treat the air coming into the living space. That way the air is cooled in the summer and heated in the winter. The ERV can transfer humidity out of the space better than an HRV, but there are a lot of other variables, such as the size of the space and how it's going to be used, that you should discuss with your HVAC contractor.
Finishes
Choosing the right finishes can depend on the moisture levels in your space. If moisture is at all a concern, consider installing ceramic or porcelain tile. These floors allow moisture to escape up through the grout lines, where your mechanical systems can deal with it. They are also impervious to moisture from below.
If moisture isn't an issue, you can install a composite vinyl floor. These come in a variety of styles and colors, and many have antimicrobial backing, which makes them an excellent choice for basement flooring. Use area rugs to create a more comfortable space.
You can finish the ceiling with dropped/acoustical tiles or a gypsum wallboard to match the walls. It could also be a combination of the two. Dropped ceilings allow access to utilities. The downside is that they typically eat up some of your ceiling height, making it difficult to meet code. Installing gypsum wallboard creates a more finished look, but you need to make accommodations for the utilities you don't want sealed off.
You can use standard products for the other finishes, such as doors, trim, paint, plumbing, and electrical fixtures.
With any project, planning ahead can save you a lot of headaches — and money.
Mark Philben is the project development manager at Charlie Allen Renovations in Cambridge. Send your questions to [email protected]. Questions are subject to editing.
Address newsletter
Get the latest news on buying, selling, renting, home design, and more.