Powered by latest generation Intel® Core™ processors, Lenovo™ unveils the updated ThinkPad™ X1 portfolio
Latest ThinkVision monitor portfolio includes high performance mini-LED and VoIP enabled displays
New Lenovo Go Accessories enhance a hybrid working environment
December 20, 2022 – Ahead of CES® 2023, Lenovo unveiled its latest ThinkPad X1 laptops featuring recycled materials1, updated Lenovo Commercial Vantage software designed to highlight feature settings that can help improve energy efficiency, and a new Lenovo View application offering advanced computer vision technology for enhanced video image quality and tools for collaboration, security, and digital wellness. The latest line of ThinkVision monitors leads with the ultra-bright ThinkVision P27pz-30 and P32pz-30 mini-LED displays followed by ThinkVision's new T-series VOIP monitors built for hybrid work, featuring an integrated Microsoft Teams functionality, 5MP cameras, dual microphones, and speakers. Lenovo also introduced its latest professional-grade 4K ThinkVision P-series monitors and, for the home, new value-conscious Lenovo L-series monitors. Completing an efficient hybrid eco-system are new Lenovo accessories, including the unique Lenovo Go Desk Station, Lenovo Go 4K Pro Webcam, and Lenovo Professional Wireless Rechargeable Combo Keyboard and Mouse.
In line with its vision of achieving net-zero by 2050 aligned to Science Based Target initiatives, Lenovo continues to focus on supporting a circular economy by increasing the use of recycled materials in its products and packaging, and collaborating with industry partners to help increase energy efficiency of its devices. This includes working with suppliers and global logistics providers to decrease the emissions released in its supply chain and take every opportunity to increase the energy efficiency in Lenovo's factories and workplaces.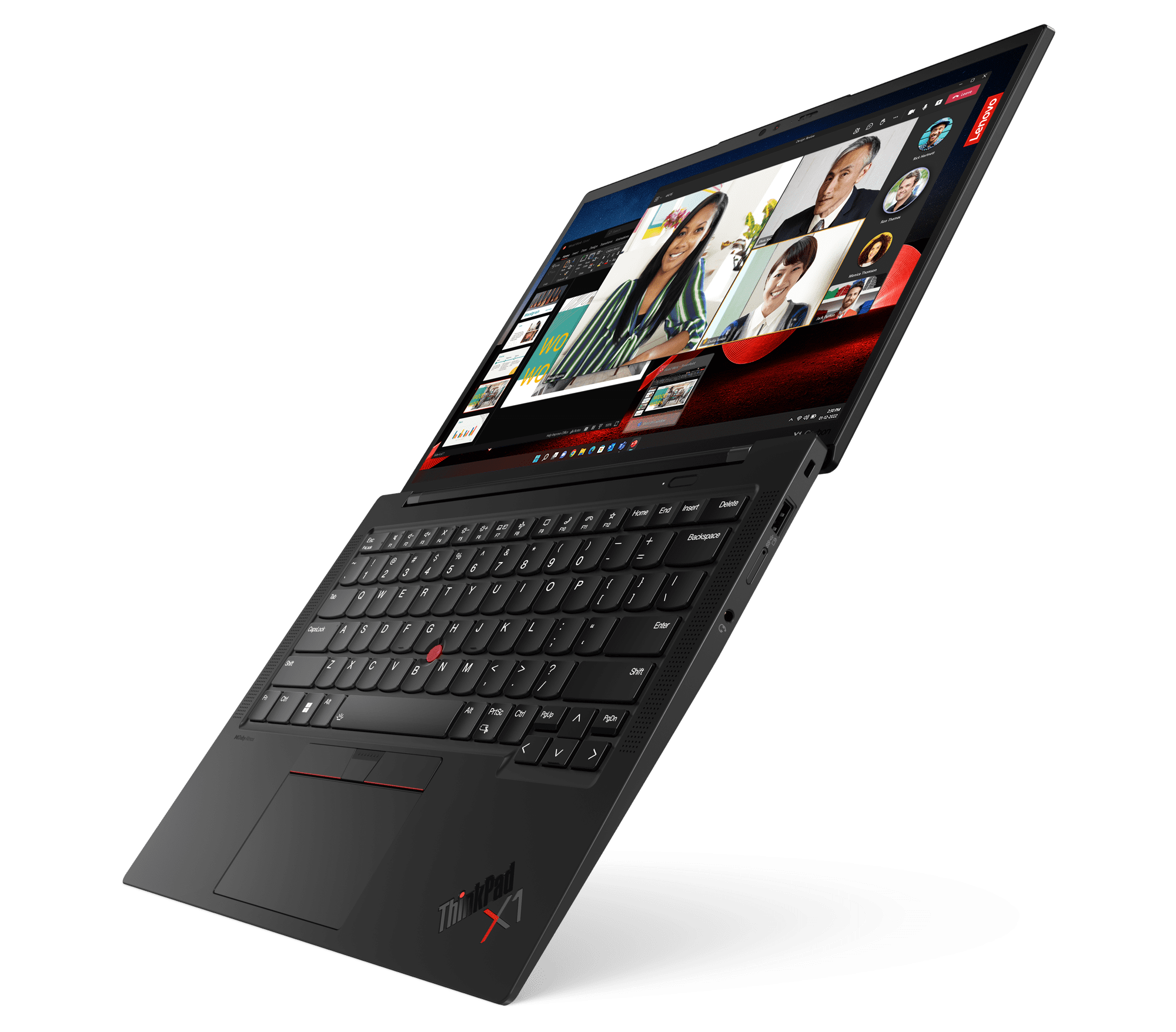 ThinkPad X1's Embrace 30 Years of Innovation
As ThinkPad surpasses 30 years, the brand's evolution continues to set benchmarks for durability, productivity, performance, and user experience. Entering a new era of computing dominated by a need for a more sustainable future, ThinkPad turns its focus toward hardware and software design and engineering to support Lenovo's net-zero vision.
ThinkPad X1 Carbon Gen 11, ThinkPad X1 Yoga Gen 8, and ThinkPad X1 Nano Gen 3 all feature recycled materials in select components:
ThinkPad X1 Carbon Gen 11 includes 90% recycled magnesium in the palm rest and 55% recycled aluminum on its bottom cover
ThinkPad X1 Nano Gen 3 features 90% recycled magnesium hybrid in the palm rest and bottom cover
Furthermore, the retail packaging is made from 100% bamboo and sugarcane fiber, brown box packaging is made from plastic-free packaging with 90% recycled and/or FSC certified content, and the new ThinkPad X1's include Post Consumer Content (PCC) plastic in select components2.
All ThinkPad laptops also qualify for Lenovo's CO2 Offset Service.
In addition to increased use of recycled materials, Lenovo's energy efficiency efforts also extend to the use of its products. The new Lenovo Commercial Vantage application further demonstrates the company's investments in helping businesses manage their carbon footprint. The intuitive software aims to guide and encourage users to enable certain settings that are designed to help reduce power consumption or extend component lifespan. The appropriate features include clearly identified labels and information to help users select their preferred configuration. Efficiency labels can extend to:
Computer Vision3 Human Presence Detection can reduce energy consumption through Zero Touch Lock function
OLED settings on OLED equipped models can also reduce energy consumption and extend the lifespan of the display
Smart Charge can help extend the lifespan of the battery through setting charge thresholds
Setting the Keyboard Backlight to Off can reduce power use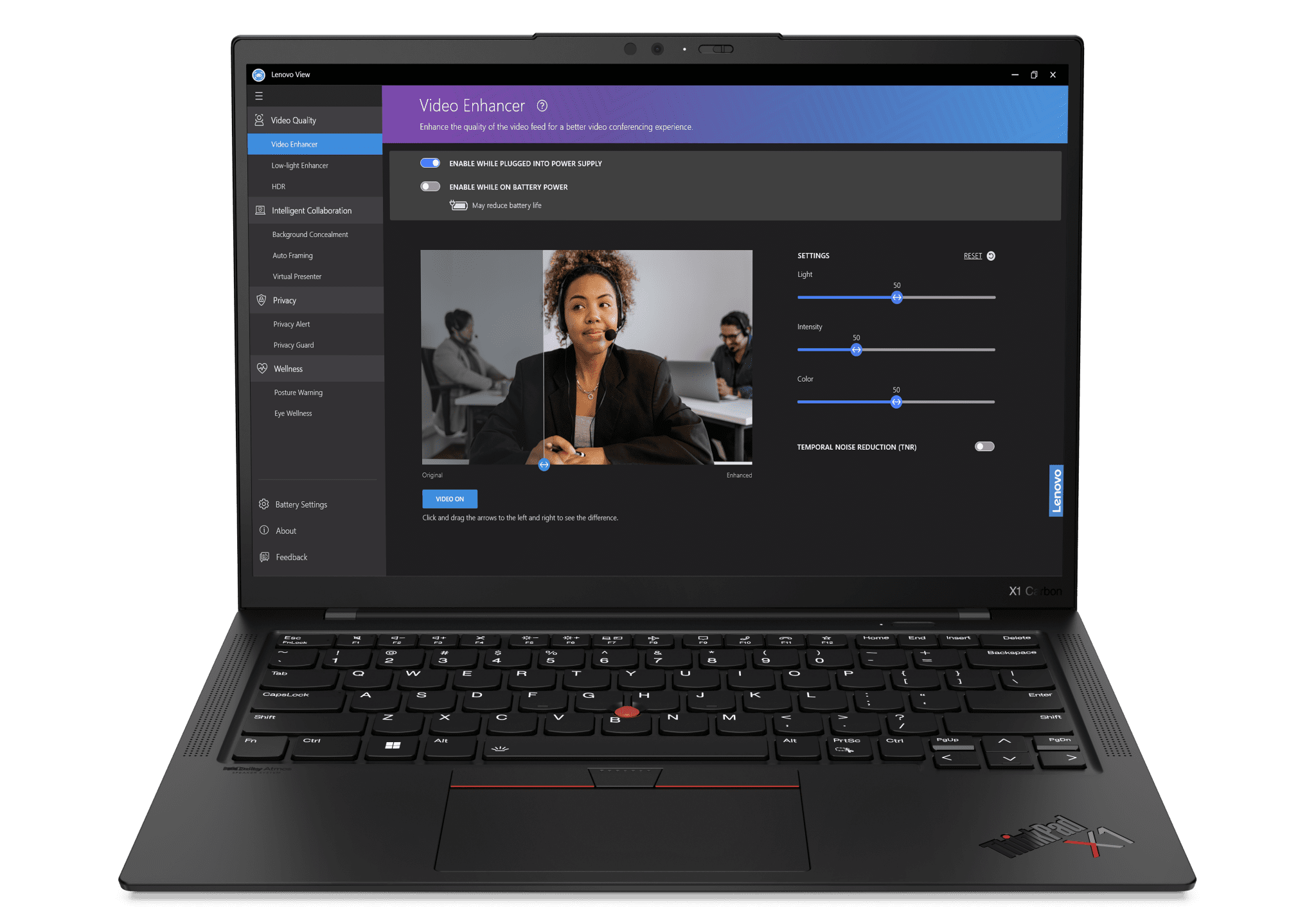 The Lenovo View application provides a superior suite of intelligent camera-based features designed to help users unlock the power of the integrated camera to enhance video call experiences and improve security and digital health. The new release expands the feature set and makes significant IQ improvements to existing ones:
Working on sensitive information in public places can present a security risk. Privacy Guard4 and Privacy Alert features integrated in Lenovo View provide additional security by activating the privacy blur or showing the privacy icon when an unauthorized onlooker's face is detected viewing the laptop screen.
Shift to hybrid working has highlighted concerns about digital well-being as users typically spend more hours per day in front of screens. Posture warning and eye wellness alerts serve as gentle reminders and can be useful tools to help with maintaining or improving digital wellness.
Hybrid work has also witnessed exponential growth in video conferencing, often highlighting the challenges that a dispersed workforce face in remote engagement. Collaboration features like auto-framing, background concealment, and virtual presenter upgrade those on-camera calls to make the presenter front and center, and help all participants be part of the conversation, even in a virtual or hybrid environment.
AI improvements to the video enhancer algorithm can also boost the image quality of the integrated webcam in any lighting environment – even in darker rooms.
These collaboration and video enhancement settings can be directly applied to the main Unified Communications applications, so users can set up everything and work seamlessly between video conferencing applications with their desired settings.
The flagship ThinkPad X1 Carbon Gen 11, X1 Yoga Gen 8 and X1 Nano Gen 3 laptops continue their history of delivering unmatched performance and productivity through an inimitable design language that marries form and function with amazing foundational engineering know-how. Business users need laptops that help them breeze through inboxes, presentations and spreadsheets; participate actively in video conferences; and have the peace of mind that personal data and privacy are as secure as they can be.
The latest ThinkPad X1's can help deliver a stress-free working environment that is highly productive and efficient to aid more purposeful thinking. In addition to the digital wellness features included in Lenovo View, low blue light-emitting displays including a stunning Dolby Vision enabled OLED option can help reduce eye strain and fatigue, certified by TÜV Rheinland. AI video improvements and smart features for video conferencing platforms are enhanced by the Dolby suite – with Dolby Atmos audio and Dolby Voice with AI noise cancellation – producing an immersive audio experience. ThinkPad X1's feature the robust ThinkShield™ security suite that is complimented by optional Computer Vision (CV) technology,2 engineered to deliver improvements in user presence detection by offering smarter privacy, a simpler login convenience5, and better energy management. Furthermore, all ThinkPad X1's include a mechanical camera shutter for improved privacy.
ThinkPad X1 laptops have always excelled in performance, and the new generations are no exception. Designed on the Intel® Evo™ platform, the highly configurable models feature the very latest generation of up to Intel® Core™ i7 processors with Intel vPro® and run Windows 11. ThinkPad X1 Carbon Gen 11 and X1 Yoga Gen 8 can also be configured with up to 64GB of LPDDR5 RAM for users who frequently conduct memory-intensive tasks.
Producing an outstanding user experience, with more sustainable materials1, requires a relentless focus in design, hardware, and software excellence. The new generation of ThinkPad X1 has delivered without question with innovative and intelligent software-driven features, performance-focused hardware engineering and a customer-centric design ethic.
An Efficient Desk Space is a Productive Desk Space
Unified video communications have become a de facto norm in everyday work, whether in an office, at home, or anywhere in between. The pain points however have remained consistent – poor video and poor lighting are often the root cause of user frustration. Enter the Lenovo Go Desk Station with Webcam. The unique hybrid working solution combines a certified 4K camera6, an adjustable desk light, rotatable arm, expansion hub and Qi wireless charger into a single innovative device designed to address those user needs.
The camera, also available as a standalone Lenovo Go 4K Pro Webcam, is built for video conferencing and high-resolution streaming. It includes auto focus and auto framing with a selectable field of view, auto ambient light adjustment and a maximum resolution of up to 4K at 30fps. For added security, the camera features a physical privacy shutter.
The Lenovo Go Desk Station, in addition to the above camera, has a versatile height adjustable arm and a rotating arm with integrated light that can be changed depending on the ambient lighting needs. This versatile arm with the light and camera can be adjusted in almost any direction to create the perfect scene, even be pointed downwards for live demos or sketching. Additionally, a touch brightness controller provides three settings to choose from, 3000K, 4500K or 6500K delivering brightness up to 1600 lux at 0.5m. The base of the Desk Station includes a USB Type-C® 135W power input and a full function 65W USB Type-C port to enable power passthrough to a laptop, for example, for a sleek one-cable solution. The base also includes two USB Type-A 3.1 ports and an HDMI 2.0 output port to connect an external display up to 4K at 60fps. A retractable 15W Qi compliant charging pad can power supported mobile devices, or a 20W USB Type-C port is available on the front. This unique solution can deliver exceptional video conferencing results while also enhancing cleaner and simpler workspace environments.
To complete a hybrid desk setup, users who prefer a full-size keyboard and accurate mouse interaction can choose the Lenovo Professional Wireless Rechargeable Combo Keyboard and Mouse. With integrated rechargeable batteries, the stylish combo for professionals features a sleek and contemporary finish and a seamless switch for connection to up to three devices with support for 2.4G through a unified dongle or dual Bluetooth. The keyboard ensures comfortable responsive keys and a near silent typing experience while the mouse features eight buttons, five of which are programmable via software, and adjustable DPI (Dots Per Inch) up to 4000. The combo is also built using minimum 65% PCC plastic.
True-to-Life Visual Experiences: ThinkVision Mini LED Monitors (P27pz-30 and P32pz-30)
Expanding on its mini-LED portfolio, Lenovo introduced its new ThinkVision P27pz-30 and P32pz-30 monitors. Backlit by thousands of miniature LEDs, these monitors feature 1,152 dimming zones which minimizes the blurring halo effect that can appear around objects on the screen and allows for a bolder color contrast with deeper blacks and brighter lit areas.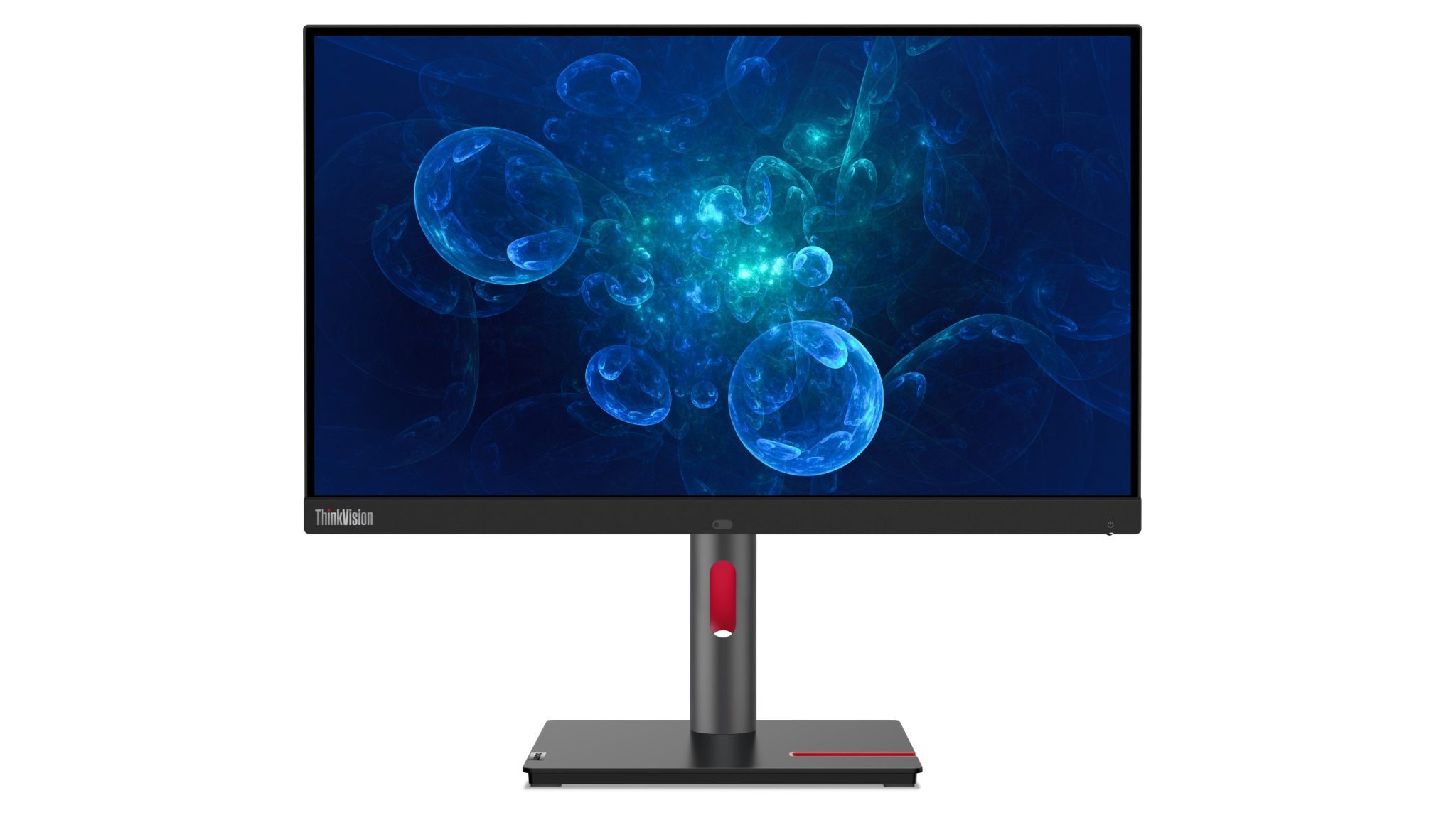 Available in 27-inch and 31.5-inch screen sizes, these ThinkVision Mini LED monitors support HDR10 and HLG formats and are DisplayHDR1000-certified to reach a peak brightness of 1200 nits. Built for creatives, both monitors include dual-color standards – DCI-P3 and Adobe RGB7 – to accommodate graphic and video use and have flicker-free technology built in to help reduce eye fatigue. They also feature Lenovo's ThinkColour software that enables easy color configuration and management of display settings in a simple point-and-click interface. Incredibly intuitive, these ThinkVision Mini LED monitors also include energy-saving human detection and light sensors that automatically dim the screen when the user steps away, and can adjust screen brightness to match the amount of ambient light detected.
Introducing USB4 docking convenience, the ThinkVision Mini LED monitors are OS-agnostic and can connect with USB-C or Thunderbolt™-compatible laptops, mobile phones and tablets, offering up to 40Gbps of data and video transfer through a single USB4 cable and can support up to two UHD monitors via daisy chain. Capable of delivering up to 15W of power to smartphones and 140W to other devices, these monitors can now charge more powerful laptops. With an extensive port offering that includes three Type-C, four Type-A, and two HDMI 2.1 ports, as well as Ethernet and DP ports, the ThinkVision Mini LED monitors give users the cross-device connections and data transfer speeds they need to be more productive and efficient. Eco-conscious in their design, the ThinkVision Mini LED monitors are made with post-consumer recycled materials throughout, including 90% PCC aluminium in the stand, 95% PCC ABS in the rear cover, and 85% PCC ABS in the bezel and stand. They are also the first Lenovo monitors with plastic-free packaging8, and they qualify for Lenovo's CO2 Offset Service.
Built for Hybrid: ThinkVision VoIP Monitors (T27hv-30, T24mv-30, and T24v-30)
Designed for the modern workforce, Lenovo's latest generation of ThinkVision VoIP Monitors include integrated, purposeful features that both enhance and simplify the virtual meeting experience. Featuring an upgraded high definition 5MP9 camera with an infrared (IR) lens plus a separate RGB lens and privacy shutter, built-in dual microphones with environmental noise cancellation, and two integrated 5W speakers9, users will enjoy a crisper all-around video call experience. New to this generation, however, is a dedicated Microsoft Teams button9 that immediately launches the video calling application. Easier than ever before, users can jump into their next call quickly without fumbling around on their desktop, and even control the volume and mute functions with the simple press of easy-to-find buttons all located on the front of the monitor. For an even faster start to the workday, knowledge workers can enjoy a more secure, auto login with Windows Hello.
Other smart features that can be easily controlled via settings include a smart traffic light that turns red when the user is on a call, a "sitting" reminder that alerts them when they've spent too much time in front of the screen, and a distance warning that will make users aware when they are sitting too close to the monitor. These next-generation ThinkVision VoIP monitors also include human detection and light sensors9 for automatic screen adjustments and are among the first devices to achieve Eyesafe® Certification 2.0 with natural low blue light technology. With these digital features combined with a hook9 on the side of the monitor for headphones to rest, and a slot in the base where a smartphone can be propped up, knowledge workers will have all the tools they need for a productive work session at arm's length.
All of these enhanced features unique to the new generation can be found on the 27-inch QHD ThinkVision T27hv-30 monitor, as well as the slightly smaller 23.8-inch FHD ThinkVision T24mv-30, both of which include a USB-C port as the upstream standard. For a similar integrated VoIP experience that's not quite as feature-heavy, users can opt for the ThinkVision T24v-30 monitor with its 23.8-inch FHD IPS display and USB-B standard upstream port.
Premium Visuals: ThinkVision P32p-30 and P49w-30 Monitors
Rounding out the new additions to its ThinkVision portfolio, Lenovo also introduced its latest in premium, professional-grade displays, the Eyesafe Certified 2.0 ThinkVision P32p-30 and P49w-30 monitors.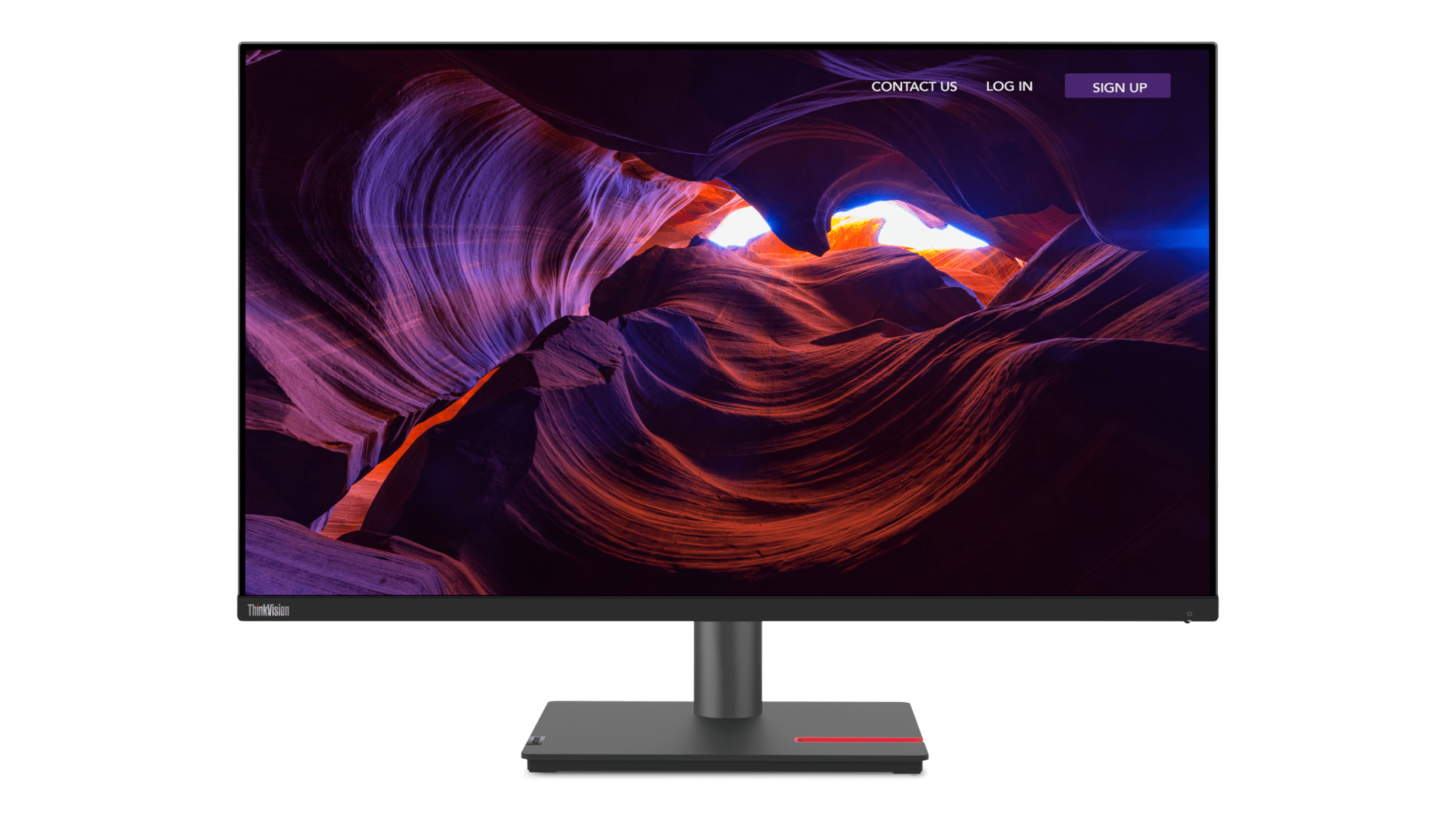 The ThinkVision P32p-30 is a 31.5-inch, 4K UHD monitor built for those that require a higher echelon of resolution. The rich colors that emanate off of this 3-side borderless display are a result of its IPS feature and dual color standards that produce a more accurate and realistic color performance that isn't distorted by the natural low blue light technology within. With multiple connectivity options, this monitor supports the ThinkVision VoIP Modular Stack10, offers a port for the stable RJ45 with enhanced security features and has two powerful Thunderbolt™ 4 ports for fast data transfer and charging through a single cable. With a wide lift range, users can adjust the stand to the most comfortable viewing angle.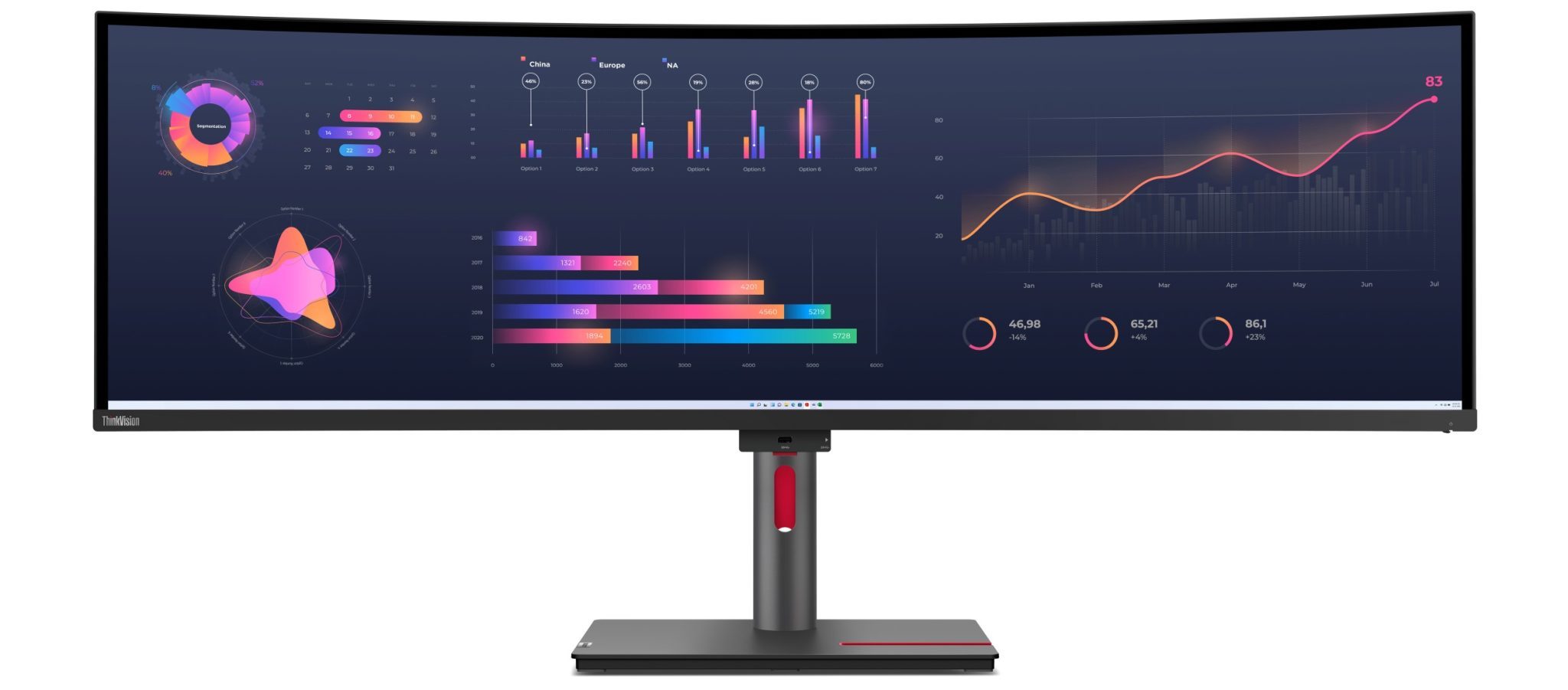 Ideal for the knowledge worker whose work demands two or more PCs to perform different functions simultaneously, the ThinkVision P49w-30 is an ultrawide, 49-inch, double QHD panoramic display. Featuring IPS Black technology, this monitor offers a 2000:1 contrast ratio for sharper, more vibrant colors and deeper blacks that benefit its wide viewing angle. With up to 13 ports, including docking functionality with two Thunderbolt™ 4 ports with up to 100W power delivery and a front facing USB-C port with a 15W fast charging capability, the ThinkVision P49w-30 can support a multitude of devices and accessories for an unmatched multitasking experience. Capable of replacing a dual monitor set up, it can serve as a 2-in-1 solution, enabling users to use both sides of the screen as two distinct workspaces – without all the cables – made possible by Lenovo's eKVM and True Split features. With eKVM users can instantly access and toggle between two PC sources with just the click of their mouse, while True Split serves as a hardware-based partition that splits the one monitor into two, allowing settings and aspect ratios to be independently adjusted as needed. When more monitors are needed, the ThinkVision P49w-30 can also be daisy chained to connect up to two other double QHD monitors via the Thunderbolt™ 4-out connector, reducing cable clutter and enabling an efficient multi-display setup. This monitor also includes two built-in 5W speakers and can support the ThinkVision MC60 modular camera with microphone.11
Remote-Ready: Lenovo L27i-40 and L24m-40 Monitors
For the home, Lenovo introduced two sleek new additions to its L-class monitor portfolio. Featuring a stylish, cloud grey metal frame stand that will adorn any workspace, the Lenovo L27i-40 monitor is the next-gen iteration of Lenovo's mainstream 27-inch display line. This slim, 3-side near edgeless IPS display offers an enhanced audio and visual experience from previous models, including the addition of two integrated 3W speakers and expanded 99% sRGB color gamut. Additional thoughtful touches include two HDMI ports, as well as a terrazzo base that has both a smartphone slot and open-space cut-out where users can store small essentials like their favorite pen for easy access when needed.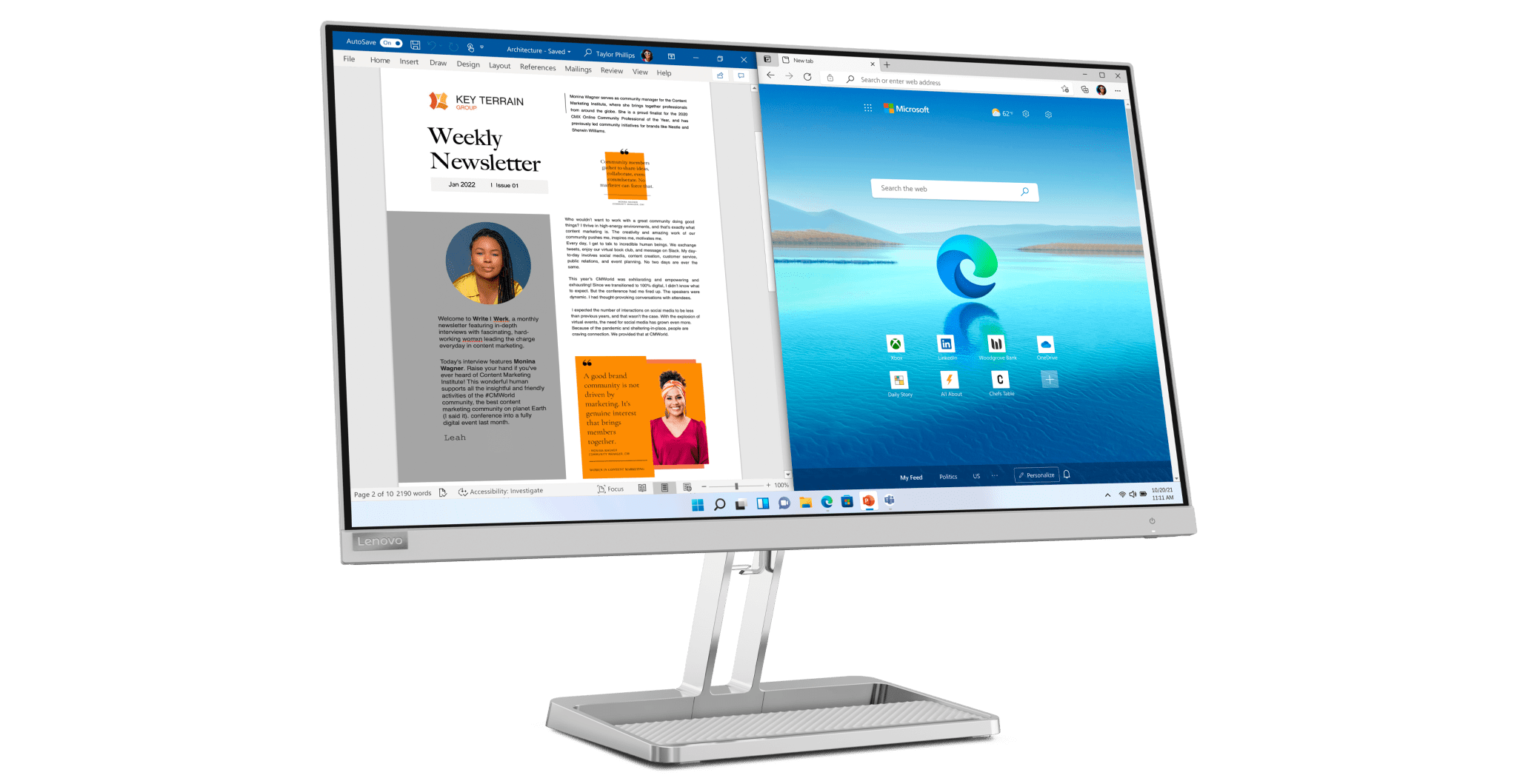 The new Lenovo L24m-40 monitor is designed to offer the at-home knowledge worker or student an attractive and efficient solution for their entertainment and productivity needs. Its 23.8-inch FHD display features an IPS panel, natural low blue light technology, and a 99% sRGB color gamut. With two 3W speakers built in, power delivery of up to 75W, and a USB hub with adequate ports to support multiple devices, including a USB Type-C, users can connect the tools they need, including the supported Lenovo LC50 Monitor Webcam12 for a more efficient virtual calling experience. Both of these products feature natural low blue light technology and are certified to the latest Eyesafe Display Requirements 2.0 standard. Additionally, each monitor's base (including the terrazzo base of the Lenovo L27i-40 monitor), stand, and back cover are made with 85% PCC recycled plastic.