Rafah crossing reopens for limited evacuations
A group of foreigners and injured Palestinians were evacuated after the Rafah border crossing reopened on Sunday, four Egyptian security sources said.
Crossings were suspended on Friday after issues transporting injured Palestinians from northern Gaza.
Adel Salam, a U.S. citizen trapped in Gaza, confirmed to NBC News that he and his wife crossed into Egypt Sunday morning and were met by U.S. Embassy staff.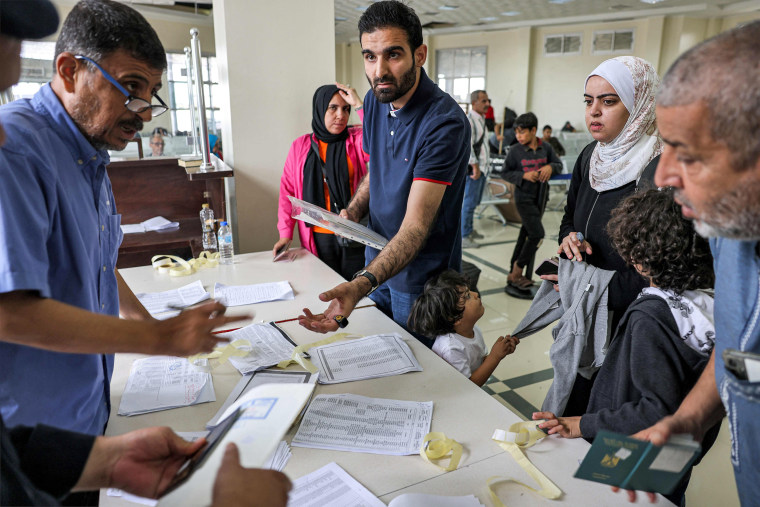 More than 100,000 march in Paris against soaring antisemitism
PARIS — More than 100,000 people marched in Paris on Sunday to protest against rising antisemitism in the wake of Israel's ongoing war against Hamas in Gaza.
Prime Minister Elisabeth Borne, representatives of several parties on the left, conservatives and centrists of President Emmanuel Macron's party as well as far-right leader Marine Le Pen attended today's march in the French capital amid tight security. Macron did not attend, but expressed his support for the protest and called on citizens to rise up against "the unbearable resurgence of unbridled antisemitism."
However, the leader of the far-left France Unbowed party, Jean-Luc Melenchon, stayed away from the march, saying last week on X, formerly Twitter, that the march would be a meeting of "friends of unconditional support for the massacre" in Gaza.
France has the largest Jewish population in Europe, but given its own World War II collaboration with the Nazis, antisemitic acts today open old scars.
Holding a French flag, Robert Fiel said marching against antisemitism is "more than a duty."
Read the full story here.
Christie meets with families of hostages, visits destroyed kibbutz
Chris Christie concluded his trip to Israel, where he spent time with injured victims of Hamas' Oct. 7 attack and families of those taken hostage in Gaza.
Christie spoke to two wounded victims at a hospital in Tel Aviv who have American citizenship. One, Yadin, is a first responder soldier who was wounded during the fighting on Oct. 7 in the Gaza envelope.
The other, Sheerel Gabay, was at the Tribe of Nova music festival in the Israeli desert and was shot in the knee after being told to take cover in a bomb shelter. She told Christie that Hamas shot everyone in the bomb shelter and that she had to hide under dead bodies for seven hours.
Christie later met with two families of hostages in Gaza — the Chen Family, whose son, Itay, has dual citizenship with America, and the Munder family, who had five family members taken. Together, they discussed ways to help bring their families home.
Christie also met with Israeli President Isaac Herzog at his home and went to kibbutz Kfar Aza, which was attacked on Oct. 7.
"I came here because I wanted to see this for myself. I think no matter what reports you can get from media or from other sources, to be able to walk through a neighborhood like this and seeing what was done to people, to still be able to walk into one of these homes and smell the death, still a month later, is something that I think the American people need to know and hear directly from someone who's seen it himself," Christie said.
Chris Christie doubts U.S. troops will have to fight, praises Biden's handling of the war during Israel trip
TEL AVIV — Former New Jersey Gov. Chris Christie became the first GOP presidential candidate to visit Israel this weekend and marked his trip by praising Biden's handling of the war, meeting with families of Israeli hostages in Gaza and with wounded victims in Tel Aviv.
Christie said in an interview with NBC News' Josh Lederman that he does not think the U.S. will have to send troops to the Middle East to fight for Israel "because the IDF is the best-equipped, best-trained force in the Middle East."
Biden previously said on CBS' "60 Minutes" he does not think it is "necessary" to send U.S. troops into combat in the Middle East.
Christie said it's a "hard call" to say who should govern Gaza when the war is over, but he made it clear that an Israeli occupation would not be in Israel's "long-term interests for their own safety and security."
Speaking about getting hostages home, Christie acknowledged difficulties in negotiating with a terrorist organization and said the U.S. should be relying on allies who have relationships with Hamas.
"Whenever you're negotiating with terrorists, it's fraught with danger. But our alternative is to not to seek the return of these people at all, which is unacceptable," he said.
He said the photos and videos of innocent Gazans dying as a result of Israeli strikes are "awful," but he blamed Hamas for starting the war, adding that a cease-fire was in place on Oct. 6, which Hamas violated when it infiltrated Israel on Oct. 7 and killed hundreds of civilians.
Christie said he is not second-guessing how Israel is waging war, and he praised how it has been working to warn Palestinians to leave areas it intends to attack.
"They've given fair warning. Now I think Hamas wants to keep those people in the areas to use as human shields," he said.
The IDF has been warning civilians in Gaza to evacuate south to lessen the number of civilian casualties, dropping flyers from planes onto northern Gaza with the message. Some civilians in the north and humanitarian groups have said it is difficult for people to flee south safely. The south has not been immune from Israel's bombardment, and refugee camps and residential areas have been struck.
He praised Biden's handling of the war — saying the president "has done a good job since Oct. 7 in showing solidarity with Israel" — and hammered home the importance of rescuing hostages. He also criticized former President Donald Trump, saying the Israeli people wouldn't be "in any better condition at this moment because of Donald Trump."
U.S. strikes Iran-affiliated forces in Syria
U.S. military forces struck facilities in eastern Syria used by Iran-affiliated groups in response to their continued attacks against U.S. personnel in Iraq and Syria, Defense Secretary Lloyd Austin said today.
A U.S. defense official said a fighter aircraft conducted strikes on two facilities in Eastern Syria: a training facility and safe house near the cities of Abu Kamal and Mayadin, respectively.
The official said the training facility was assessed to also function as a logistics and weapons storage facility, and the safe house was a headquarters facility for groups in the area associated with Iran's Islamic Revolutionary Guard Corps. 
The official confirmed the presence of IRGC-related militia personnel, but could not provide information on casualties.
It was the third time since late October that U.S. forces had conducted retaliatory strikes on proxy forces for Iran based in Syria. Previous strikes took place on Oct. 26 and Wednesday.
The Syria-based forces, believed to be linked to the IRGC, began a wave of attacks on locations hosting U.S. personnel on Oct. 17, 10 days after Hamas' incursion into Israel sparked war.
Austin said President Joe Biden directed today's strikes because he "has no higher priority than the safety of U.S. personnel."
Families of hostages hope for their release; Netanyahu says there 'could be' potential deal
TEL AVIV — As the images of urban warfare, bombings and piles of bodies in Gaza appear on TV screens around the world, one group watching and praying are the families and friends of the hostages taken on Oct. 7.
"I try to think that the army knows what it's doing and that it will not harm all and the other hostages," said Michael Levy, 40, whose been told his brother Or is one of those held by Hamas. "But as you can imagine, it's frightening to see it and know that he's somewhere inside."
Or Levy, 33, and his wife, Eynav Levy, arrived at the Nova Festival 10 minutes before it was attacked by Hamas.
They hid in a shelter but were discovered along with many others. Eynav was killed, Or was taken. Her body was found after four days. It took eight days for the family to be told Or was a hostage.
Now the family wait for news, caring for the couples 2-year-old son, hoping he won't be left without a mother or father.
"They were one of those couples that were always together. Always. Even on the last video that I have from inside the shelter, they were together," Michael Levy said. "Every morning I text the person from the army, the officer from the army, if there's something new every morning. But every morning, the answer is, unfortunately not, not yet."
On Sunday, Netanyahu told "Meet the Press," that there "could be" a potential hostage deal, as "the result of pressure, military pressure" from Israeli forces.
MIT suspends some students after protesters refused to leave building
BOSTON — Administrators of MIT suspended a number of students Thursday from the prestigious technology school after Israel-Hamas war protesters took over a prominent building for much of the day and then some refused to leave by a set deadline.
Sally Kornbluth, the school's president, sent a letter to all students outlining the "boundaries of protest on campus" during a pro-Palestinian demonstration that she described as "disruptive" and "loud." The protest in the building called Lobby 7 lasted much of the day and attracted counterprotesters.
When some protesters refused to leave after a deadline was set, the school said it would suspend them. But after hearing concerns, including visa issues, Kornbluth said they would be "suspended from non-academic campus activities." It was unclear how many students would be affected and when that would happen.
People on both sides criticized the response.
"Our love and fight for the people of Gaza will not be swayed by the administration's fear tactics," MIT-wide Coalition for Palestine organizer Mohamed Mohamed said in a statement. "While the administration may possess the means to send letters and emails to all students, staff, faculty, and workers, we possess something even more potent — a just cause and the collective voices of thousands in the MIT community who remain committed to advocating for an end to the genocide and an end to the occupation."
At the same time, the MIT Israel Alliance criticized the university for not academically suspending any of the protesters, whom they accused of preventing students from attending classes.
"Instead of dispersing the mob or de-escalating the situation by rerouting all students from Lobby 7, Jewish students specifically were warned not to enter MIT's front entrance due to a risk to their physical safety," the group said in a statement. "The onus to protect Jewish students should not be on the students themselves."
Photo: Destruction in northern Gaza
A plume of smoke rises after an airstrike in northern Gaza today.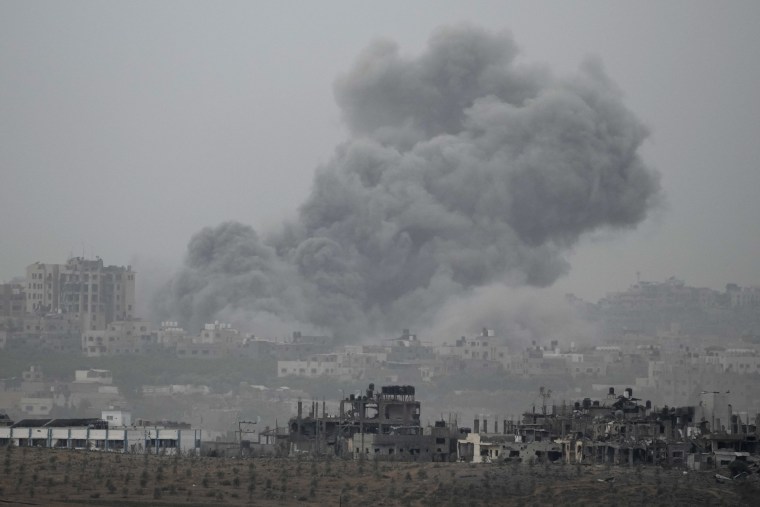 Civilians injured in northern Israel as clashes with Hezbollah continue
Several civilians were injured after anti-tank missiles were shot toward Dovev, a village in northern Israel near its border with Lebanon, an IDF spokesperson said.
The IDF attacked the source of the shooting with artillery, the spokesperson said. Overnight, uncrewed aerial vehicles also attacked a "terrorist squad" trying to launch anti-tank missiles toward Metula, another northern town, they added. NBC News has not been able to independently verify the claims.
Though Hezbollah has thus far appeared unwilling to enter all-out war with Israel, tensions along the blue line border region have been growing in recent days. Hezbollah's death toll rose to 78 on Friday after Israel killed seven fighters on its northern border, exceeding the number of those killed during its 2006 war with Israel.
In a televised address released yesterday, the leader of the militant group, Hassan Nasrallah, promised that the front with Israel would "remain active." Later, Israeli Defense Minister Yoav Gallant warned that "Hezbollah is dragging Lebanon into a war that might happen."
Asked whether he bears any responsibility for "missing" Hamas militants' terrorist attack Oct. 7, Netanyahu said on NBC News' "Meet the Press" that "we all bear responsibility."
Netanyahu said that after the war against Hamas, there will be a "thorough investigation," during which "everybody will have to answer some very tough questions, including myself."
But he said the question of who bears responsibility isn't top of mind right now. Rather, it's winning this war and uniting his country.
Netanyahu told Kristen Welker his government wasn't "distracted at all" by months of protests against his judicial reforms, and he said that now isn't the time to "relitigate the past."
"I think right now we have to focus every ounce of energy, every ounce of will and resolve, to achieve our goal of destroying Hamas, because our future depends on it," he said.
Pope Francis reiterated his calls for aid to Gaza in his weekly address to worshippers in St. Peter's Square at the Vatican and warned against an expansion of the conflict between Israel and Hamas.
"In Gaza, let the wounded be rescued immediately, let civilians be protected, let far more humanitarian aid be allowed to reach that stricken population," he said, adding: "May the hostages be freed, including the elderly and children."
"I embrace them in this dark moment," Francis said, referring to both Palestinians and Israelis, and he encouraged worshippers to "pray and work tirelessly so that the sense of humanity may prevail."
Palestinian children will face a lifetime of disability, Gaza surgeon says
Physicians should prepare themselves for long-term health ramifications after the war as delays in proper treatment will cause a second wave of health issues, including decades of care for Palestinian children, Dr. Ghassan Abu-Sittah, a British plastic and reconstructive surgeon working in Gaza, said today.
"A whole generation has been permanently damaged and disabled," Abu-Sittah said during a Zoom conference hosted by the Palestinian Children's Relief Fund. "And I don't even think of the mental health aspect. These are kids who have seen their families killed in front of them. … They've been buried under the rubble for days."
Abu-Sittah noted that doctors are triaging as best as they can, but many people will need years of extensive surgeries in addition to the thousands of patients who will be exposed to infections and diseases because of uninhabitable living conditions.
He compared the volume of injured patients and lack of resources to field hospitals in World War II, saying he didn't even have basic over-the-counter painkillers to offer as he performed skin grafts and limb-saving surgeries.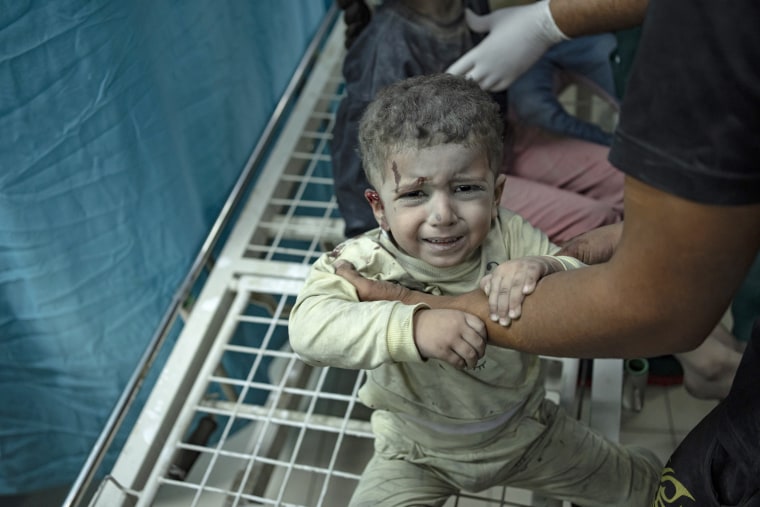 "We need to focus on hitting the ground running the minute this is over, because the second wave will be the destitution," Abu-Sittah said.
Photos: Global protests support Palestinians or Israel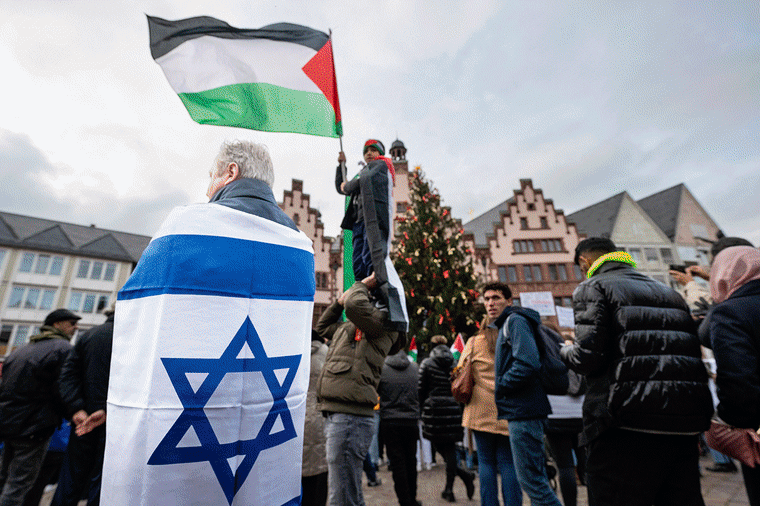 Demonstrators in Germany, Turkey, Romania and Italy showed their support for Israel or Palestinians today.
Israeli minister says government is rolling out 'the Gaza Nakba,' evoking memories of Palestinian displacement
Avi Dichter, Israel's minister of agriculture and rural development, described the evacuations of Palestinians out of northern Gaza as a "Nakba" during a local news interview today.
Nakba, which means "catastrophe" in Arabic, evokes memories of the mass displacement of Palestinians during the creation of the state of Israel in 1948.
When asked whether Gazans would have anywhere to return to following the war, Dichter told Channel 12 that "we are now rolling out, in fact, the Gaza Nakba."
NBC News has previously reported that many Palestinians already viewed the IDF's calls for Gazans to evacuate to the south Gaza Strip with suspicion, choosing the dangers from Israeli bombardment over the risk of a new Nakba.
IDF spokesperson Rear Adm. Daniel Hagari previously told civilians that they would be able to return once the fighting ends.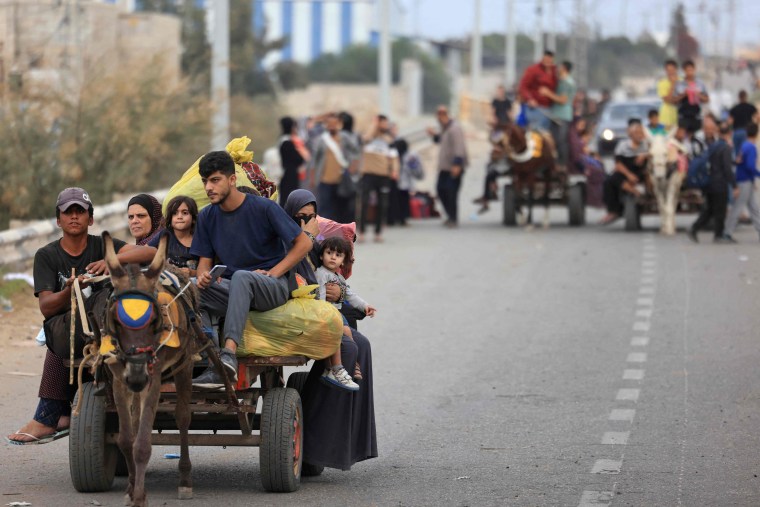 An estimated 750,000 Palestinians were expelled from their homes during the 1948 Arab-Israeli war and the creation of the state of Israel. Palestinian families have often passed down painful stories of their forced displacement over generations, with many of them never having the chance to return to their ancestral homeland.
Israelis might view this time period differently, as their families fled Europe after the Holocaust and sought refuge in the new state. Many Jews had already emigrated to the British-ruled Palestine, particularly after the 1917 Balfour Declaration, in which the British government announced its support for a home for Jews in Palestine.
The United Nations passed a resolution in 1974 in which it declared that Palestinians have a right to self-determination as well as the "inalienable right" to return to the homes they were forcibly uprooted from. Earlier this year, the U.N.'s independent body of human rights experts wrote that Palestinians have been "systematically denied of their right to return" by the Israeli government.
WHO director says situation at Al-Shifa hospital is 'dire and perilous'
World Health Organization Director-General Tedros Adhanom Ghebreyesus described the situation at Al-Shifa hospital as "dire and perilous" after he said the organization managed to contact staff there today.
Patient fatalities increased significantly, according to Tedros' post on the social media site X, and the facility is not able to function as a hospital.
"It's been 3 days without electricity, without water and with very poor internet which has severely impacted our ability to provide essential care," Tedros said. "The constant gunfire and bombings in the area have exacerbated the already critical circumstances."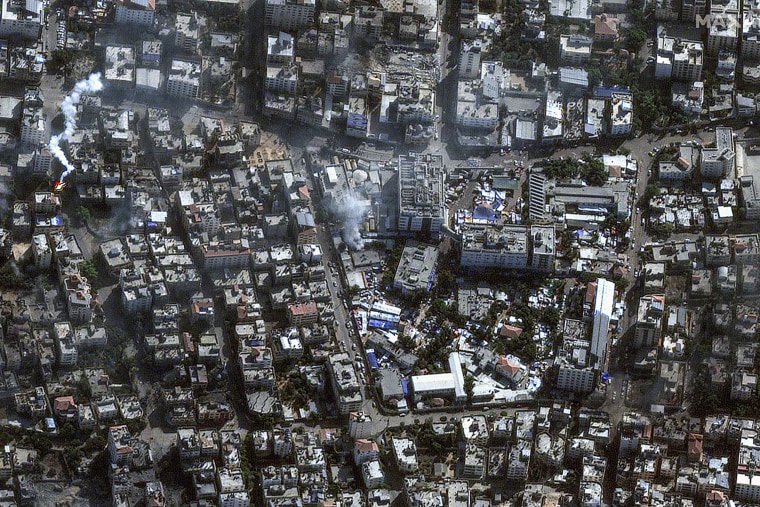 He once again called for a cease-fire, adding that the world cannot be silent as hospitals are transformed "into scenes of death, devastation, and despair."
Israel's offer of fuel was not enough to run hospital for a day, surgeon says
TEL AVIV — Israel's offer of fuel was only around 2% of what the hospital needed to run in a single day, according to Dr. Marwan Abusada, a surgeon at Al-Shifa hospital.
Prime Minister Benjamin Netayahu told MSNBC's "Meet the Press" this morning that an offer of fuel was "refused" by hospital staff.
The IDF said it had left 300 liters of fuel outside the hospital, but it said Hamas prevented hospital staff from accepting the fuel.
Abusada, who is also the head of international cooperation at the Gaza Ministry of Health, confirmed that the hospital was offered 200 liters of fuel, but said it was not enough — that at least 10,000 liters per day would be needed to run vital parts of the hospital.
"It was just 200 liters," Abusada said in a call with NBC News today. "What to do with 200 liters?"
It's unclear why the IDF said it offered 300 liters and Abusada says the hospital was offered only 200.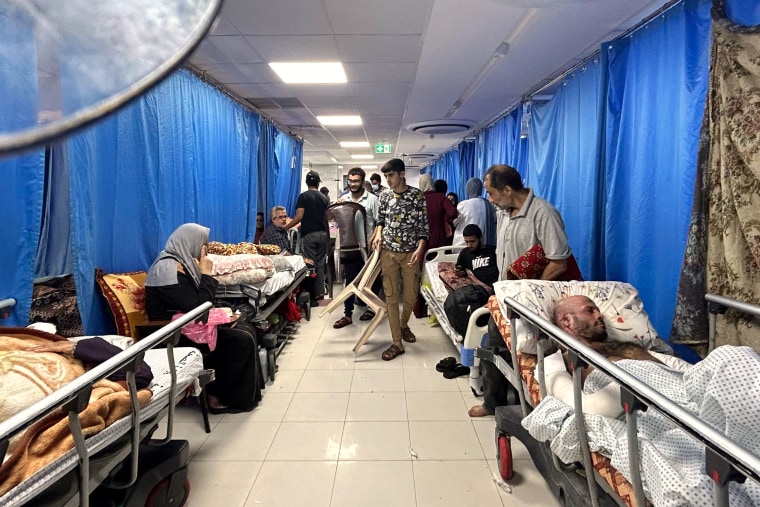 Photos: Israeli soldiers on the ground in Gaza
Photos released by the Israel Defense Forces show their ground operation in Gaza today.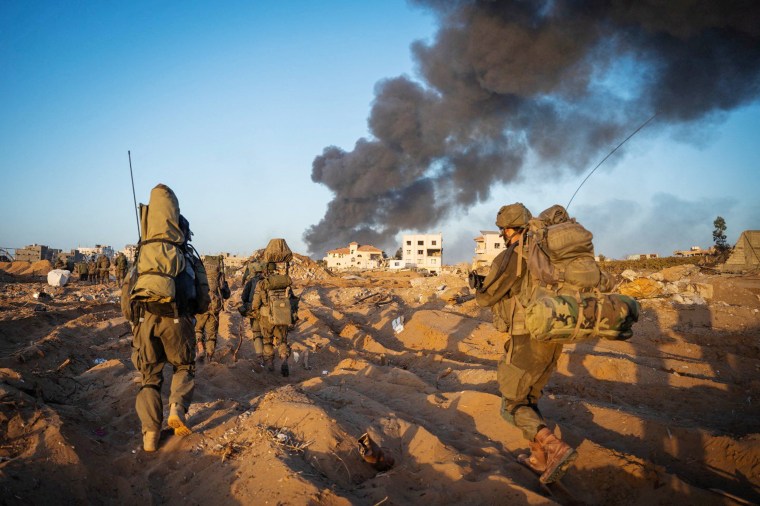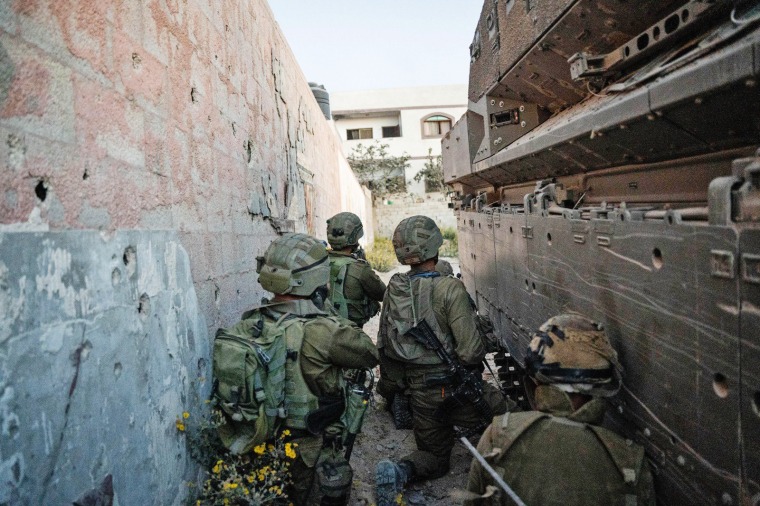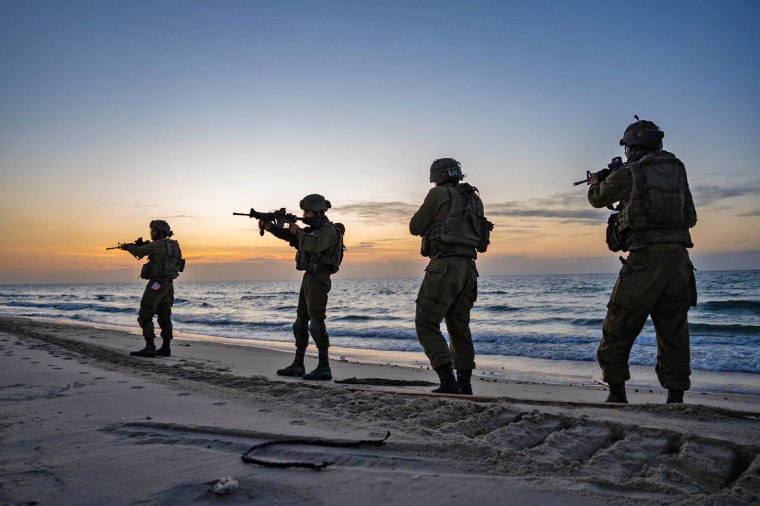 European Union calls for 'immediate pauses' in hostilities
The European Union is calling for "immediate pauses in hostilities" to establish humanitarian corridors and for Hamas to immediately release all hostages.
In a statement from the E.U.'s high commissioner today, the coalition of states said it is gravely concerned about the humanitarian crisis continuing to unfold in Gaza.
"These hostilities are severely impacting hospitals and taking a horrific toll on civilians and medical staff," the statement said.
It condemned the use of civilians and hospitals as shields, as Hamas has been accused of doing, and urged Israel to "exercise maximum restraint" to protect civilian lives.
Macron appears to soften comments made during BBC interview in call to Israel's president
French President Emmanuel Macron seemed to soften comments he made in a BBC interview this weekend during a call with his Israeli counterpart today, according to a readout issued by the office of Israeli President Isaac Herzog.
Macron called for a cease-fire during the British broadcast and said that while he supported Israel's right to defend itself, there was no justification for the number of innocent civilian deaths. He stopped short of accusing Israel of war crimes and noted that he was not a judge with authority to make that determination.
Herzog told Macron today that the interview caused "much pain and upset in Israel," his office readout said. Macron's office has not yet published a readout of the call on his office's website.
"President Macron made clear that he does not and did not intend to accuse Israel of intentionally harming innocent civilians in the campaign against the terrorist organization Hamas," Herzog's readout said.
Israel said it will relocate at-risk babies, but doctors say they don't know of any evacuations
TEL AVIV — The IDF said this morning that it was opening an evacuation route from the Al-Shifa hospital in Gaza today after IDF spokesperson Daniel Hagari said hospital staff had requested military assistance to relocate at-risk babies in its care. But two doctors at the medical facility said they were not aware of anyone being able to evacuate the facility today.
At least three babies have died and another 36 infants receiving lifesaving care are at risk of dying as the hospital's resources run out, Dr. Marwan Abusada, a surgeon at Al-Shifa, told NBC News. The health ministry also said at least three babies have died at Al-Shifa.
Abusada is not aware of anyone leaving the hospital to take the IDF evacuation route, he said. Dr. Ahmed El Mokhallalati, a plastic surgeon at Al-Shifa Hospital, also said that he was not aware of anyone who had yet been able to evacuate the hospital.
Asked today for an update on whether the IDF was helping evacuate the infants from the hospital, a spokesperson did not immediately provide a response.
A spokesperson for Médecins Sans Frontières (Doctors Without Borders) said it has not been in touch with staff since yesterday, but directed NBC News to the hospital director's refutation of Hagari's statement to The New York Times.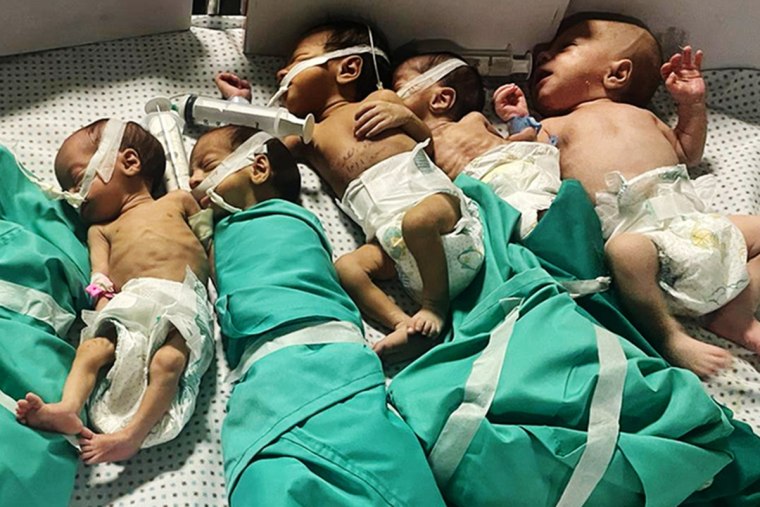 Israeli human rights group condemns violence at Gaza hospitals
TEL AVIV — A leading Israeli human rights group said Israel is failing in its responsibility to ensure that its fight against Hamas does not injure and kill civilians at Gaza Strip hospitals.
Roy Yellin, public outreach director for the group B'Tselem, told NBC News that even if Hamas is using space below Gaza hospitals, as Israel alleges, Israel must still "fight in a way that protects the sick people."
"It's totally unacceptable to just absolve yourself by saying, 'Well, Hamas did it, so it's their fault,'" Yellin said. "No, we're responsible for our own actions. And we have to conduct our military operation in a way that respects and differentiates between warriors and civilians."
International law dictates that medical facilities cannot be attacked during war, though there are exceptions if those facilities are used to attack the enemy, according to the International Committee of the Red Cross. Israel has accused Hamas of operating an underground command center beneath the Al-Shifa Hospital, the largest in Gaza and the site of recent fighting. The U.S. has said it has no reason to doubt that assessment, but NBC News has not been able to independently verify the claims.
Yellin said Israel has not proven that Al-Shifa hospital and other medical facilities in Gaza should lose their protected status under international law.
Hezbollah says it targeted an IDF bulldozer, IDF says several wounded by group's missiles
Hezbollah issued a statement today saying that it "targeted a bulldozer" belonging to the IDF near Dovev in northern Israel, close to the country's border with Lebanon.
The militant organization said the attack was part of its support efforts with Palestinians in the Gaza Strip.
The IDF confirmed it was exchanging fire with Hezbollah today, saying multiple civilians were injured near Dovev after the group launched anti-tank missiles. Israel's military later said that seven soldiers were injured and it was firing back at the origin of the missile launches.
"15 launches from Lebanon were identified in the past hour," the IDF said in a post on X today. "The IDF Aerial Defense Array intercepted 4 of the launches, with the rest falling in open areas."
Bipartisan group of U.S. lawmakers visiting Israel, to meet with Netanyahu
A bipartisan group of congressional U.S. lawmakers are visiting Israel today to assess the situation in the country.
Among the group are Reps. Michael McCaul, R-Texas, chair of the House Foreign Affairs Committee; Gregory Meeks, D-N.Y., ranking member of the committee; as well as Reps. John James, R-Mich.; Jared Moskowitz, D-Fla.; Michael Lawler, R-N.Y.; Madeleine Dean, D-Pa.; and Max Miller, R-Ohio. Sens. Jerry Moran, R-Kan., and John Hoeven, R-N.D., are also traveling with the group.
While in Israel, the lawmakers are expected to take part in a classified embassy briefing and hold a meeting with Prime Minister Benjamin Netanyahu. They will also meet with officials with the country's Ministry of Defense.
Photos: Mourning the dead in Gaza and Israel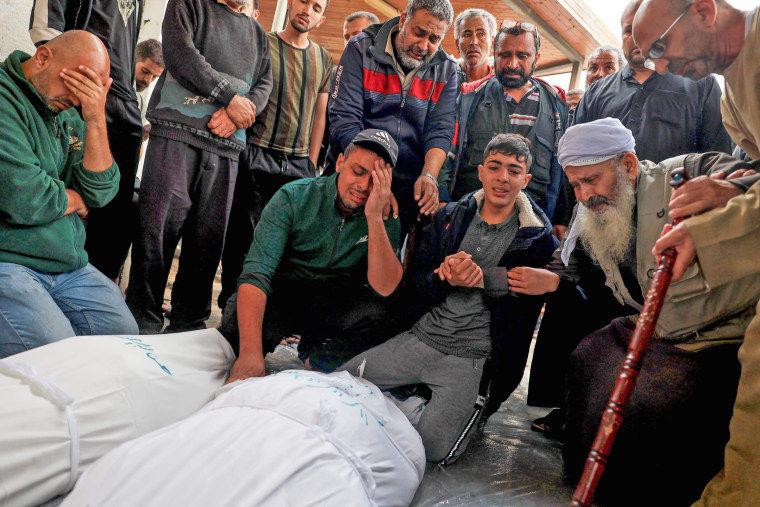 Relatives mourn today over the bodies of loved ones killed during overnight strikes in Rafah in the southern Gaza Strip.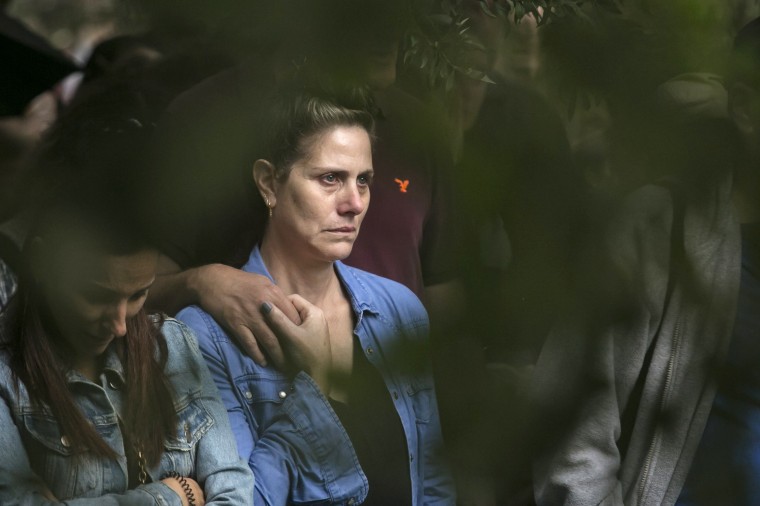 Family and friends mourn during the funeral today in Ginegar, Israel, for fallen staff Sgt. Gilad Rozenblit, killed in the Gaza Strip. Israel has announced the deaths of more than 40 soldiers since the country began its ground invasion of the Gaza Strip.
UNICEF, WHO, UNFPA call for 'urgent international action' to stop attacks on health care facilities in Gaza
Regional directors of the World Health Organization and the U.N. children's and population funds have released a joined statement calling for "decisive international action" to reach a cease-fire in Gaza, describing the besieged strip as a place of "death, devastation and despair."
"Over the past 36 days, WHO has recorded at least 137 attacks on health care in Gaza, resulting in 521 deaths and 686 injuries, including 16 deaths and 38 injuries of health workers on duty," the statement said, adding: "Staff across a number of hospitals are reporting lack of fuel, water and basic medical supplies, putting the lives of all patients at immediate risk."
Emergency services, lifesaving surgery and intensive care services were being placed under "massive strain" and were limited by ongoing hostilities surrounding the hospitals, as well as the continued withholding of fuel, water and electricity, the statement said.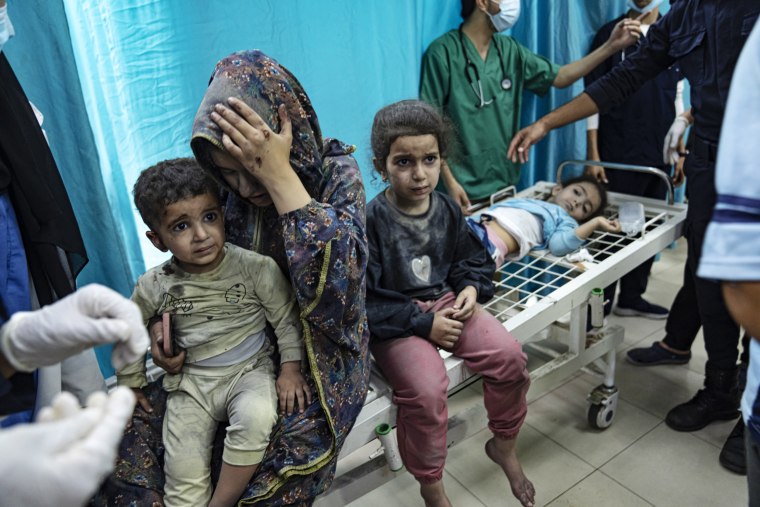 Netanyahu says Gaza's Al-Shifa hospital refused Israel offer of fuel
Israeli Prime Minister Benjamin Netanyahu today, told NBC News' "Meet the Press" that his country offered fuel to Gaza's Al-Shifa hospital last night, but it was "refused."
"We offered actually, last night, to give them enough fuel to operate the hospital, operate the incubators and so on, because we have, obviously, no battle with patients or civilians at all," he told host Kristen Welker.
"They refused it," he added after he was pressed on the matter.
Al-Shifa suspended operations yesterday after running out of fuel. NBC News has attempted to contact spokespeople at the hospital and has reached out to Hamas sources in Lebanon.
Netanyahu's comments came after the World Health Organization said it lost communication with contacts at the embattled hospital in Gaza City. Multiple babies and five people in intensive care have died at the facility, according to the Gaza health ministry.
"I think every civilian death, every dead baby is a tragedy," Netanyahu said, adding "that tragedy should be placed squarely at the responsibility of Hamas, that is keeping its military installations inside hospitals, it's command posts inside hospitals, inside schools, inside UNRWA, U.N. facilities and so on."
Officials at Al-Shifa have denied that Hamas has a base or installations at the hospital.
'The hospital area is a war zone,' says surgeon at Al-Shifa
TEL AVIV — A surgeon at Al-Shifa hospital told NBC News that the situation had become "more dangerous" there as he called for patients to be safely evacuated from the facility.
Ahmed El Mokhallalati, head of the plastic surgery unit at the hospital, issued the plea for help in a phone call this morning — which is also when the Israel Defense Forces said they would be opening an evacuation route from Al-Shifa, along with two other hospitals, Al-Rantisi and Al-Nasr. NBC News was not immediately able to get an update from Mokhallalati on whether he was aware of the evacuation route and whether patients at the hospital were using it.
At the time, he said the hospital area had become "a war zone" and that vital resources were dwindling, including food and water. "We are eating the last remaining food cans."
As he called for a "safe passage" to get patients somewhere safe, he said: "You can't punish everyone at Al-Shifa hospital."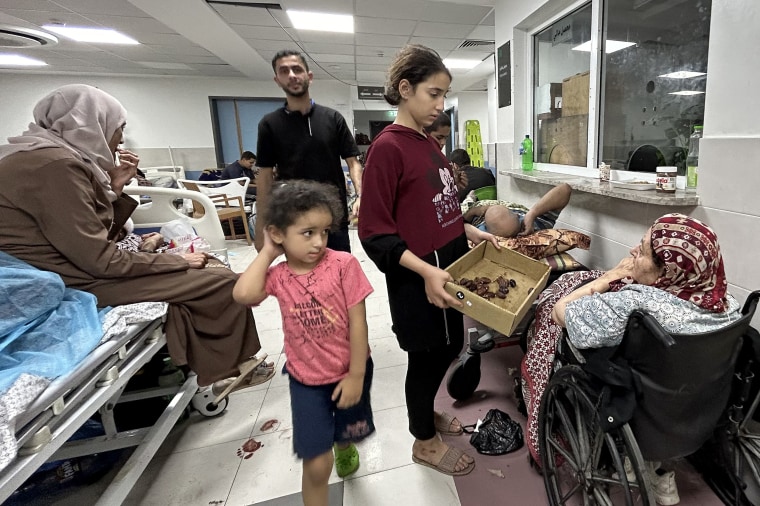 U.N. peacekeeper shot in Lebanon as tensions rise
A United Nations peacekeeper working in the Lebanese border town of Al Qawzah was shot and wounded in the early hours of Sunday morning, according to a statement from UNIFIL, the interim U.N. force in Lebanon.
"Shortly after midnight last night, peacekeepers in a UNIFIL position near Al Qawzah reported hearing gunfire nearby," UNIFIL said in a post on X on Sunday. The peacekeeper underwent surgery and is now stable.
In an interview with Al Jazeera, a UNIFIL spokesperson said that the potential for a miscalculation on the Israel-Lebanon border was increasing, warning that it could trigger a wider conflict.
Doctor shares photo of babies at Al-Shifa hospital
Dr. Mads Gilbert, a Norwegian doctor who has worked in hospitals in Gaza for years and is currently in Cairo, shared a photo with NBC News that he said was taken inside Al-Shifa's nursery.
The image shows babies wrapped in blankets and lined up in rows on adult hospital beds. At least one appears to have tape on their face, which is usually used to keep oxygen tubes in place.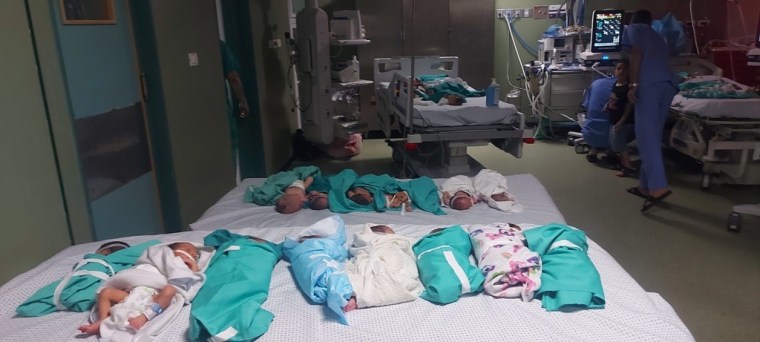 Gilbert said he received the picture from a surgeon at the facility whom NBC News has previously interviewed. However, NBC News was unable to independently verify precisely when or where the image was taken.
"The Palestinian doctors and nurses have done everything they can to save their lives," Gilbert said of the infants, adding that he has been in regular communication with staff at Al-Shifa.
There could be a deal to free hostages, Netanyahu tells 'Meet the Press'
Israeli Prime Minister Benjamin Netanyahu told NBC News' "Meet the Press" today that there "could be" a deal to free hostages held by Hamas.
In an interview with Kristen Welker, Netanyahu said no deal was close until his forces began the ground operation in Gaza. "We heard that there was an impending deal of this kind or of that kind and then we learned that it was all hokum. But the minute we started the ground operation that began to change," he said.
Asked if he knew where all the hostages were being held right now, he said, "We know a great deal, but I won't go beyond that." He added that if a deal was available, "we will talk about it when it's there. We'll announce it if it's achievable."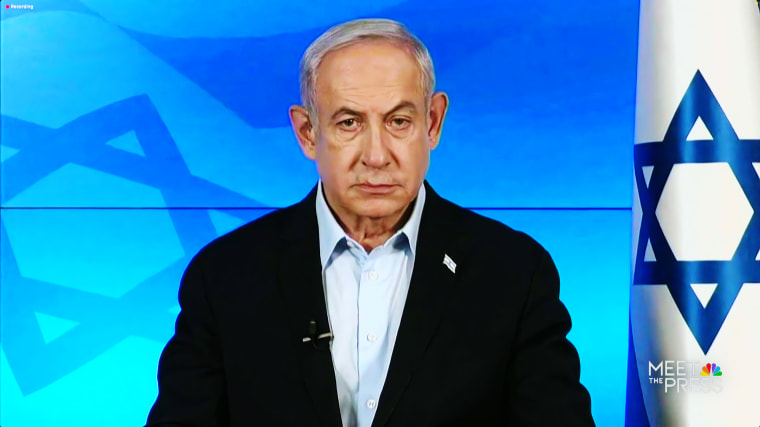 Israel blames NGOs, aid agencies for lives lost in Gaza
Nongovernmental organizations and aid agencies such as the World Health Organization, the International Red Cross and the U.N. Office for Humanitarian Affairs in the occupied Palestinian territories have "actively put civilian lives at risk" says Israeli government spokesperson Eylon Levy.
In a post on the social media site X, Levy blamed the agencies for endangering Palestinians by refusing "to support an evacuation from the north," requiring a "hasty evacuation in the middle of ground urban warfare." Levy said that while the government blamed Hamas for "all tragic civilian deaths," U.N agencies "need to take a long, hard look in the mirror about their complicity with Hamas' human shield strategy."
Aid agencies have previously said that in many cases it was not possible to evacuate according to Israel's order. With continued bombing across Gaza, many Palestinians also felt it was unsafe to do so. Israel's aerial and ground offensive has killed some 11,000 Palestinians. Hamas has denied using civilians as human shields in the Gaza Strip.
NBC News has contacted the agencies for comment.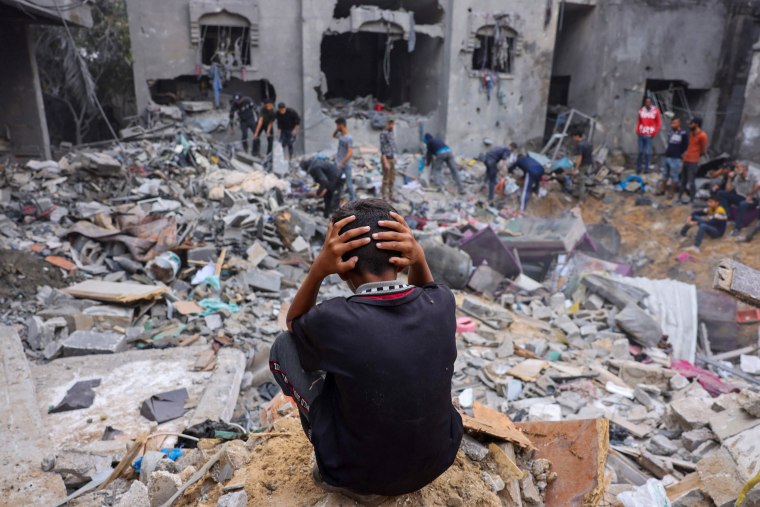 UNRWA workers: Stories from internally displaced Gazans 'pierce the depths of human suffering'
Internally displaced Gazans arriving at a shelter in Khan Younis, in southern Gaza, still carried white flags — symbols of surrender they hoped would protect them during thier mileslong journeys, often on foot, from northern to southern Gaza.
Their survival stories "would haunt anyone who hears them," said Hussain, an aid worker for UNRWA, the U.N. humanitarian agency for Palestinians. In a blog post, he described children who had seen "chickens pecking at lifeless bodies," and a man who had to bury his father who died during their evacuation south.
The IDF has repeatedly warned Palestinians living in the north of the Gaza Strip to move south, for their own safety. However, the military continues to bombard the south as well as the north, including densely populated cities such as Rafah and Khan Younis.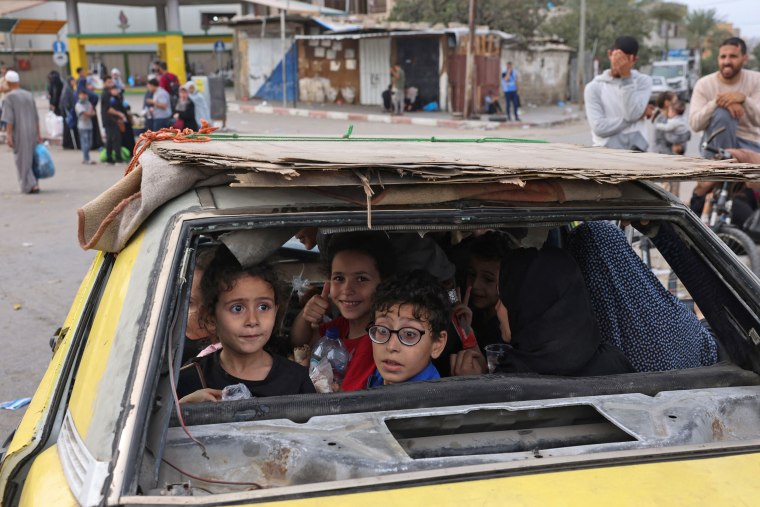 Possible deal to release 80 hostages, according to U.S. official
A Biden administration official has confirmed to NBC News that there is a possible deal for a hostage exchange between Hamas and Israel.
The official said that the deal being discussed involved the release of about 80 women and children in exchange for the release of Palestinian women and teenagers held by Israel.
The official said the U.S. is also exploring other options, and spoke with the caveat that there is no certainty that any proposed deal will succeed.
Dozens killed by sniper fire in Al-Shifa hospital, health ministry says
Snipers in buildings around Al-Shifa hospital target "anyone moving between buildings inside the hospital" Dr. Ashraf Al-Qudra, a spokesperson for the Palestinian Health Ministry, told NBC News via WhatsApp yesterday.
"We hear excessive shootings and explosions continuously," said Al-Qudra, who added that because of the threat of sniper fire, they were unable to bury the bodies of 70 people. People who had been internally displaced from elsewhere in Gaza and using the hospital for shelter were shot. He said dozens were killed near the hospital gate as they tried to escape.
Fires in the artificial kidney unit had to be put out using sand instead of water, Al-Qudra said, as the hospital's water supply had run out.
"We have no water, no food, no electricity, no internet, and we have become completely isolated from the world," added the hospital's director, Dr. Midhat Abbas. Four people died in the ICU, he said.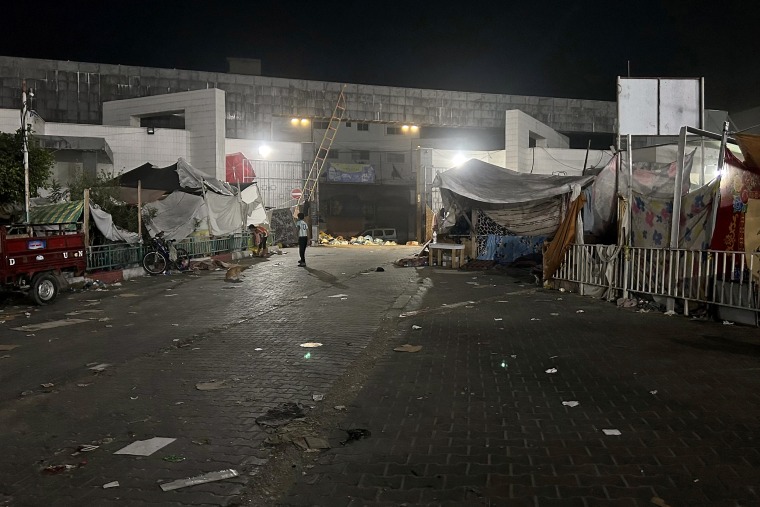 Gaza City's Al Quds hospital is 'out of service,' officials say
The Al Quds hospital in Gaza City is now "out of service" and "no longer operational," the Palestine Red Crescent Society said today.
"This cessation of services is due to the depletion of available fuel and power outage," the organization said in a statement.
It said medical workers were "making every effort" to provide care to patients and those injured in bombardments as Israel continues its offensive in Gaza. But the organization said those at the hospital face "dire humanitarian conditions and a shortage of medical supples, food, and water."
Noting that it had made "repeated appeals for urgent international assistance," the statement said that the hospital had been "left to fend for itself under ongoing Israeli bombardment, posing severe risks to the medical staff, patients, and displaced civilians."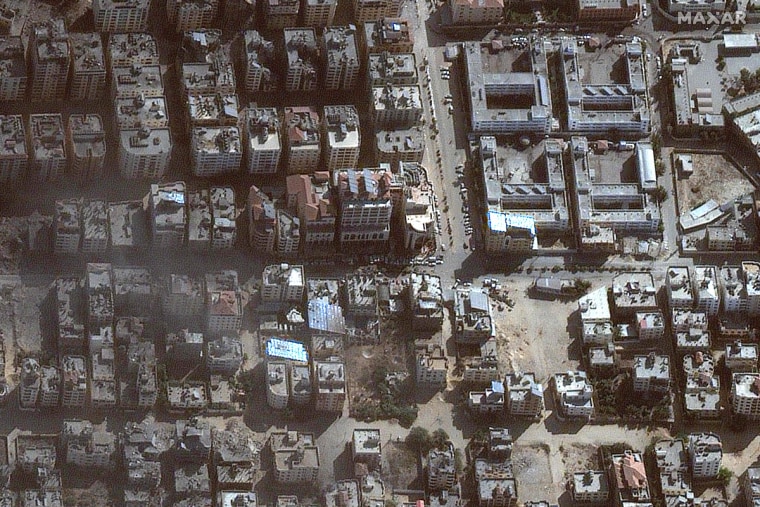 Photos: Scenes from a day of protests
Protesters calling for a cease-fire in Gaza gathered in cities around the world yesterday. In London, an estimated at 300,000 people marched through the streets.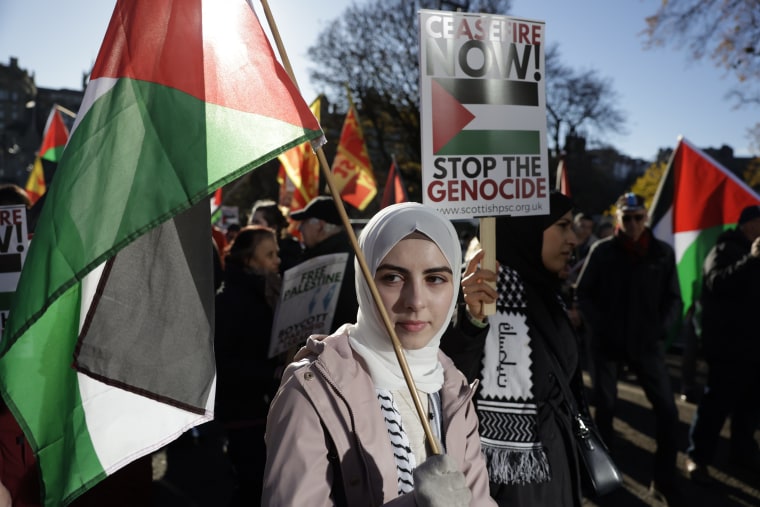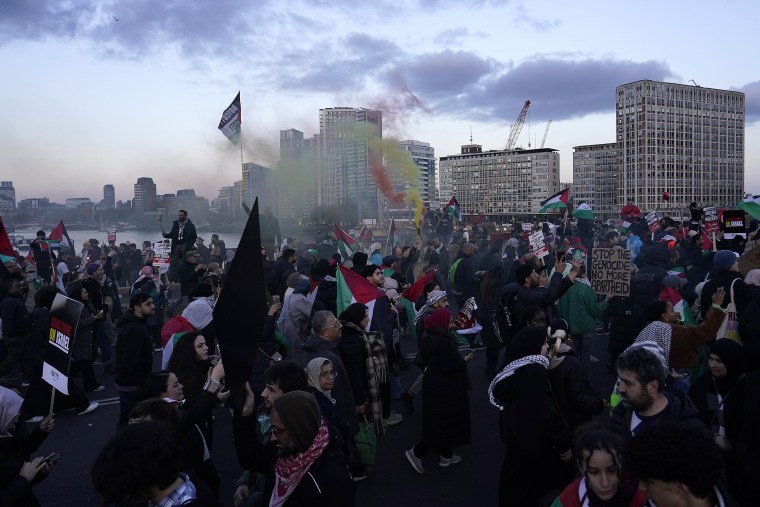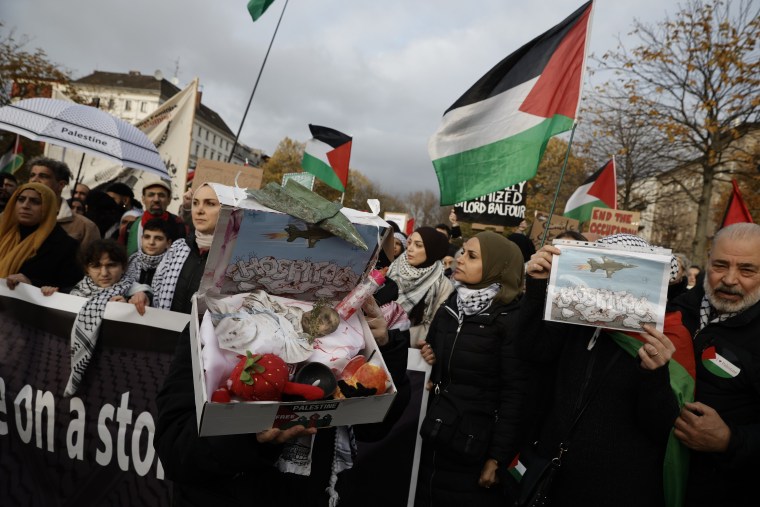 Palestinian journalists in Israel say they face intimidation and harassment
Palestinian journalists working in Israel say they have faced increased intimidation and harassment since Hamas' attacks, as authorities crack down on broadcasts, reports and social media posts that they consider to be a threat to national security.
Press freedom and human rights groups say the approach is stifling speech and freedom of the media.
Dalia Nammari, a journalist with Russia Today, said she was accosted by armed police as she tried to file a live report in southern Israel on Oct. 16. She and her camera crew had stopped by the side of the road in an agricultural area of no apparent military importance, Nammari said.
"One police car stopped, took our IDs. … Soon, another military police force came, six or seven armed men with rifles, live bullets and ammunition. They surrounded me and the cameraman," she told NBC News.
Read the full story here
Protesters in Tel Aviv call for cease-fire
Around 50 protesters gathered in Tel Aviv on Saturday evening to call for a cease-fire.
"We're here to protest against the indiscriminate killing of civilians that we are seeing in the past weeks, by Hamas and IDF in the Gaza Strip," Tal Mintic, an attendee, told Reuters.
"We are calling for a cease-fire now and release of the hostages and going towards a solution to this never-ending bloodshed," he added.
Protesters held placards with slogans reading, "War has no winners!" as police watched from nearby cars.
However, in a televised address on Saturday, Israeli Prime Minister Benjamin Netanyahu pushed back against growing international pressure for a cease-fire, saying "there is no alternative to victory."
At a separate rally in Tel Aviv on Saturday, thousands gathered outside the Defense Ministry to call for the release of the hostages. Families and friends of those held captive in the Gaza Strip, and their supporters, held photos and signs that read "Now!"
IDF announces evacuation routes from 3 hospitals, including Al-Shifa
TEL AVIV — The Israel Defense Forces said the military will facilitate evacuation routes from three hospitals in Gaza City — Al-Shifa, Al-Rantisi and Al-Nasr hospitals — so that people inside can move south.
In a statement, the IDF said soldiers "opened and secured a passage which enables the civilian population to evacuate, on foot and by ambulances" from the three hospitals.
The military shared a recording of a phone call it said was held between an officer from Israel's Coordination and Liaison Administration to Gaza and a manager at Al-Shifa hospital. In the call, the hospital manager seems to express concern about the route due to "airplanes" in the area. The officer says "no, no, no — they aren't ours" and says "anybody who wishes to move" can do so.
The IDF's announcement came after the Palestinian Health Ministry said that three premature babies receiving care at Al-Shifa hospital and five people in its intensive-care unit had died. The medical complex faces a spiraling humanitarian crisis amid heavy bombardment and fighting near its grounds.
Front against Israel will 'remain active,' says Hezbollah
The head of Lebanon's Hezbollah party, Sayyed Hassan Nasrallah, said on Saturday that its armed wing had used new types of weapons and struck new targets in Israel, and pledged that its front would "remain active."
In his second televised address, Nasrallah said that Hezbollah had shown "a quantitative improvement in the number of operations, the size and the number of targets, as well as an increase in the type of weapons."
The group had used weaponized drones for the first time, he said, and carried out new attacks on the northern Israeli town of Kiryat Shmona.
Shortly after, Israeli Defense Minister Yoav Gallant told troops near the border with Lebanon that Hezbollah was dragging Lebanon "into a war that might happen" and that it would be Lebanese citizens who would "pay the price."
"What we are doing in Gaza we can do in Beirut," he added.
Multiple babies and ICU patients have died at Al-Shifa hospital, Gaza health officials say
TEL AVIV — Multiple premature babies and intensive-care patients have died at Al-Shifa hospital since it went "out of service" amid heavy bombardment and intense fighting outside the facility, the Palestinian Health Ministry said.
The health ministry said the ICU patients died "due to a lack of oxygen yesterday." Health officials also warned that at least 30 more babies born premature and receiving care at the hospital were at risk of death.
NBC News was not immediately able to independently verify the situation on the ground. Doctors at the hospital could not immediately be reached, and the World Health Organization said it had lost communication with its contacts at Al-Shifa.
The Israel Defense Forces said they would facilitate an evacuation route from the hospital today.
Arab and Muslim leaders make demands of Israel
CAIRO — Leaders of Arab and Muslim states across the Middle East today announced a list of demands for Israel as the war with Hamas threatens to draw allies on both sides into conflict.
Secretary-General Hissein Brahim Taha of the Organization of Islamic Cooperation — the 57-member group of nations that organized the Joint Arab-Islamic Extraordinary Summit in Riyadh — called for an end of "Israeli aggression against the Palestinian people," according to an OIC statement.
"The Secretary-General called for an immediate, durable, and comprehensive cessation of the ongoing Israeli aggression against the Palestinian people, for opening humanitarian corridors to deliver aid and essential needs to the Gaza Strip in an adequate and sustainable manner; and for providing international protection for the Palestinian people," the OIC said.
Among the summit's other demands: that war crimes investigations into actions by Israeli forces be completed, that nations stop sending weapons to Israel, and that the world recognize the "state of Palestine" as a sovereign country.
The OIC calls itself "the collective voice of the Muslim world."
Gaza health minister says 37 premature babies at risk of death amid fuel embargo
TEL AVIV — Thirty-seven babies born premature and receiving care at Al-Shifa hospital in Gaza City are at risk of death because Israel's fuel embargo has left the hospital and its medical devices without sufficient power, Gaza health ministry officials said today.
The office of the health ministry initially released a higher number of at-risk babies, then said one of them died today.
The office said the remaining babies at Al-Shifa, which has been a focus of the Israeli Defense Forces in Gaza because they claim Hamas militants are using subterranean tunnels below it as a headquarters, could die at any moment.
Fuel was expected to run out tonight, after which incubators will stop working, the office said.
Dr. Ashraf Al-Qudra, a spokesperson for the Gaza health ministry, said five people died at Al-Shifa amid a previous power outage.
NBC News has been unable to verify Israel's claim that Hamas was using space beneath the facility. U.S. officials said they have no reason to doubt it. Israeli officials have not responded to the statement that 37 babies were at immediate risk of death.
WHO says it lost communication with contacts at Al-Shifa hospital
The World Health Organization said in a statement that it has lost communication with contacts at the embattled Al-Shifa hospital in Gaza City as the facility has come under fire and appeared surrounded by Israeli forces.
The United Nations agency said Gaza's largest hospital, under repeated attack in the last 48 hours and expecting its last ration of fuel to be used tonight, was surrounded by tanks.
"Staff reported lack of clean water and risk of the last remaining critical functions, including ICUs, ventilators and incubators, soon shutting down due to lack of fuel, putting the lives of patients at immediate risk," the WHO said.
The statement further called for a cease-fire as well as "the sustained, orderly, unimpeded and safe medical evacuations of critically injured and sick patients."
It was not immediately clear why the communication was lost. Al-Shifa officials have been warning that the medical complex was critically low on fuel and other supplies, and that the situation would affect the health and survival of patients.
The Israel Defense Forces said Hamas militants have been occupying tunnels beneath the hospital, a claim NBC News has been unable to confirm.