We are entering a new era of AI, one that is fundamentally changing how we relate to and benefit from technology. With the convergence of chat interfaces and large language models you can now ask for what you want in natural language and the technology is smart enough to answer, create it or take action. At Microsoft, we think about this as having a copilot to help navigate any task. We have been building AI-powered copilots into our most used and loved products – making coding more efficient with GitHub, transforming productivity at work with Microsoft 365, redefining search with Bing and Edge and delivering contextual value that works across your apps and PC with Windows.
Today we take the next step to unify these capabilities into a single experience we call Microsoft Copilot, your everyday AI companion. Copilot will uniquely incorporate the context and intelligence of the web, your work data and what you are doing in the moment on your PC to provide better assistance – with your privacy and security at the forefront. It will be a simple and seamless experience, available in Windows 11, Microsoft 365, and in our web browser with Edge and Bing. It will work as an app or reveal itself when you need it with a right click. We will continue to add capabilities and connections to Copilot across to our most-used applications over time in service of our vision to have one experience that works across your whole life.
Copilot will begin to roll out in its early form as part of our free update to Windows 11, starting Sept. 26 — and across Bing, Edge, and Microsoft 365 Copilot this fall. We're also announcing some exciting new experiences and devices to help you be more productive, spark your creativity, and to meet the everyday needs of people and businesses.
With over 150 new features, the next Windows 11 update is one of our most ambitious yet, bringing the power of Copilot and new AI powered experiences to apps like Paint, Photos, Clipchamp and more right to your Windows PC.
Bing will add support for the latest DALL.E 3 model from OpenAI and deliver more personalized answers based on your search history, a new AI-powered shopping experience, and updates to Bing Chat Enterprise, making it more mobile and visual.
Microsoft 365 Copilot will be generally available for enterprise customers on Nov. 1, 2023, along with Microsoft 365 Chat, a new AI assistant that will completely transform the way you work.
Additionally, we introduced powerful new Surface devices that bring all these AI experiences to life for you, and they are available for pre-order beginning today.
New Windows 11 Update delivers over 150 new features, including bringing the power of Copilot to the PC
Today, we're thrilled to share our next step toward making Windows the destination for the best AI experiences – with a new update that delivers our most personal experience yet coming on Sept. 26.
Here's a look at some of what's new in the latest update for Windows 11:
Copilot in Windows (in preview) empowers you to create faster, complete tasks with ease and lessens your cognitive load – making once complicated tasks, simple. We've made accessing the power of Copilot seamless as it's always right there for you on the taskbar or with the Win+C keyboard shortcut providing assistance alongside all your apps, on all screen sizes at work, school or at home.
Paint has been enhanced with AI for drawing and digital creation with the addition of background removal and layers as well as a preview of Cocreator that brings the power of generative AI to the Paint app.
Photos has also been enhanced with AI including new features to make editing your photos a breeze. With Background Blur you can make the subject of your photo stand out quickly and easily. The Photos app automatically finds the background in the photo, and with a single click, instantly highlights your subject and blurs out the background. We've improved search, with photos stored in OneDrive (home or personal) accounts, you can now quickly find the photo you're looking for based on the content of the photo. You can also now find photos based on the location where they were taken.
Snipping Tool now offers more ways to capture content on your screen – with this update you can now extract specific text content from an image to paste in another application or, you can easily protect your sensitive information with text redaction by using text actions on the post capture screen. And, with the addition of sound capturing using audio and mic support, it's easier to create compelling videos and content from your screen.
Clipchamp, now with auto compose, helps you with scenes suggestions, edits and narratives based on your images and footage automatically so you can create and edit videos to share with family, friends, and social media like a pro.
Notepad will start automatically saving your session state allowing you to close Notepad without any interrupting dialogs and then pick up where you left off when you return. Notepad will automatically restore previously open tabs as well as unsaved content and edits across those open tabs.
With the new Outlook for Windows, you can connect and coordinate your various accounts (including Gmail, Yahoo, iCloud, and more) in one app. Intelligent tools help you write clear, concise emails and seamlessly attach important documents and photos from OneDrive. To learn more, visit this link.
Modernized File Explorer, we are introducing a modernized File Explorer home, address bar and search box all designed to help you more easily access important and relevant content, stay up to date with file activity and collaborate without even opening a file. Also coming to File Explorer is a new Gallery feature designed to make it easy to access your photo collection.
New text authoring experiences to voice access and new natural voices in Narrator, continuing our ongoing commitment to making Windows 11 the most accessible version of Windows yet.
Windows Backup makes moving to a new Windows 11 PC easier than ever. With Windows Backup, transitioning most files, apps and settings from one PC to another, is seamless so everything is right where you left it, exactly how you like it.
These experiences, including Copilot in Windows and more will start to become available on Sept. 26 as part of our latest update to Windows 11, version 22H2.
Bing and Edge are redefining how we interact with the web
Today, we're announcing new features in Bing and Edge to supercharge your day powered by the latest models delivering the most advanced capabilities for AI available. You can use Bing Chat today with Microsoft Edge or at bing.com/chat. Features will begin to roll out soon.
Personalized answers. Now, your chat history can inform your results. For example, if you've used Bing to track your favorite soccer team, next time you're planning a trip it can proactively tell you if the team is playing in your destination city. If you prefer responses that don't use your chat history, you can turn this feature off in Bing settings.
Copilot in Microsoft Shopping. From Bing or Edge, you can now more quickly find what you're shopping for online. When you ask for information on an item, Bing will ask additional questions to learn more, then use that information to provide more tailored recommendations. And you can trust you're getting the best price – in fact, in the last 12 months, shoppers have been offered more than $4 billion in savings on Microsoft Edge. Soon, you'll also be able to use a photo or saved image as the starting point for shopping.
DALL.E 3 model from OpenAI in Bing Image Creator. DALL.E 3 delivers a huge leap forward with more beautiful creations and better renderings for details like fingers and eyes. It also has a better understanding of what you're asking for, which results in delivering more accurate images. We're also integrating Microsoft Designer directly into Bing to make editing your creations even easier.
Content Credentials. As we continue to take a responsible approach to generative AI, we're adding new Content Credentials which uses cryptographic methods to add an invisible digital watermark to all AI-generated images in Bing – including time and date it was originally created. We will also bring support for Content Credentials to Paint and Microsoft Designer.
Bing Chat Enterprise Updates. Since its introduction just two months ago, more than 160 million Microsoft 365 users now have access to Bing Chat Enterprise at no additional cost and the response has been incredible. Today we're announcing that Bing Chat Enterprise is now available in the Microsoft Edge mobile app. We're also bringing support for multimodal visual search and Image Creator to Bing Chat Enterprise. Boost your creativity at work with the ability to find information using images and creating them.
Transforming work with Microsoft 365 Copilot, Bing Chat Enterprise and Windows
In March, we showed you what Microsoft 365 Copilot can do in the apps millions of people use every day across work and life – Word, Excel, PowerPoint, Outlook and Teams – using just your own words. After months of learning alongside customers like Visa, General Motors, KPMG and Lumen Technologies, we're excited to share that Microsoft 365 Copilot will be generally available for enterprise customers on Nov. 1.
Today, we're also introducing a new, hero experience in Microsoft 365 Copilot: Microsoft 365 Chat. You saw a glimpse of Microsoft 365 Chat in March, then called Business Chat — but rapid advancements over the last few months have taken it to a whole new level. Microsoft 365 Chat combs across your entire universe of data at work, including emails, meetings, chats, documents and more, plus the web. Like an assistant, it has a deep understanding of you, your job, your priorities and your organization. It goes far beyond simple questions and answers to give you a head start on some of your most complex or tedious tasks — whether that's writing a strategy document, booking a business trip, or catching up on emails.
Over the past few years, the pace and volume of work have only increased. On a given workday, our heaviest users search for what they need 18 times, receive over 250 Outlook emails and send or read nearly 150 Teams chats.[1] Teams users globally are in three times more meetings each week than they were in 2020.[2] And on Windows, some people use 11 apps in a single day to get work done. [3] Microsoft 365 Chat tames the complexity, eliminates the drudgery and helps you reclaim time at work. Preview customers can access it today on Microsoft365.com, Teams, or in Bing when signed in with their work account. In the future you'll be able to access it wherever you see the Copilot icon when signed in with your work account.
To empower you at work, we're also introducing new capabilities for Copilot in Outlook, Word, Excel, Loop, OneNote and OneDrive. Bing Chat Enterprise —the first entry point into generative AI for many companies — is getting a few upgrades. And as part of our big Windows 11 update, Windows 365 Switch and Windows 365 Boot will be generally available making it even easier to access your Windows Cloud PC. This will help employees achieve more, while making it easier for IT to deploy, manage and secure. Check out the Microsoft 365 blog to learn more about how Microsoft 365, Bing Chat Enterprise and Windows are transforming the way we work.
Unleashing personal productivity and creativity with Designer and Copilot in Microsoft 365
Designer, the newest addition to our family of Microsoft 365 consumer apps, helps you quickly create stunning visuals, social media posts, invitations, and more using cutting-edge AI. Today, we're showing some powerful new features, many of which will be powered by OpenAI's Dall.E 3. Generative expand uses AI to extend your image beyond its borders, generative fill adds a new object or background, and generative erase can remove unwanted objects.[4] Dall.E 3 will also soon power the image generation experience in Designer, making it easy to add original, higher quality images to your design in seconds.
We're also integrating Designer into Microsoft 365 Copilot for consumers — starting with Word. Designer uses the context of your document to propose visuals to choose from; you can make it more personal by uploading your own photos too. And within moments, you can transform a text-heavy document with custom graphics. We're starting to test Microsoft 365 Copilot with a small group of Microsoft 365 consumer subscribers and look forward to expanding the preview to more people over time. Seventy percent of creators tell us one of the most difficult parts of the creation process is just getting started.[5] With creative tools like Designer, plus Bing Image Creator, Clipchamp and Paint, you can now have an immediate visual draft of almost anything — with a few simple prompts.
Introducing new Surface devices available for pre-order beginning today for people and businesses
There is no better stage to bring to life all of the incredible AI experiences from across Microsoft than our new Surface devices. Surface is at the forefront of device performance and processor technology. We have been investing in silicon advancements to augment this next wave of AI innovation, unlocking experiences like Windows Studio Effects in Surface Pro 9 with 5G and continuing to increase performance to run the latest AI models with powerful devices like the new Surface Laptop Studio 2.
The new Surface Laptop Studio 2 is the most powerful Surface we've ever built. Turbocharged with the latest Intel® Core processors and cutting-edge NVIDIA® Studio tools for creators-with up to 2x more graphics performance than MacBook Pro M2 Max, [6] Surface Laptop Studio brings together the versatility to create and the power to perform — a stunning 14.4″ PixelSense Flow touchscreen display and flexible design with three unique postures. And with new customizations brought to the haptic touchpad to improve accessibility – we're proud to call it the most inclusive touchpad on any laptop today.
The new Surface Laptop Go 3 will turn heads with its balance of style and performance. It's our lightest and most portable Surface Laptop, with a touchscreen display, and packed with premium features like an incredible typing experience and a Fingerprint Power Button, and it comes in four stylish colors. With Intel® Core i5 performance, all-day battery life, and robust RAM and storage options, it's the perfect everyday laptop and stage for the latest AI tools from Microsoft.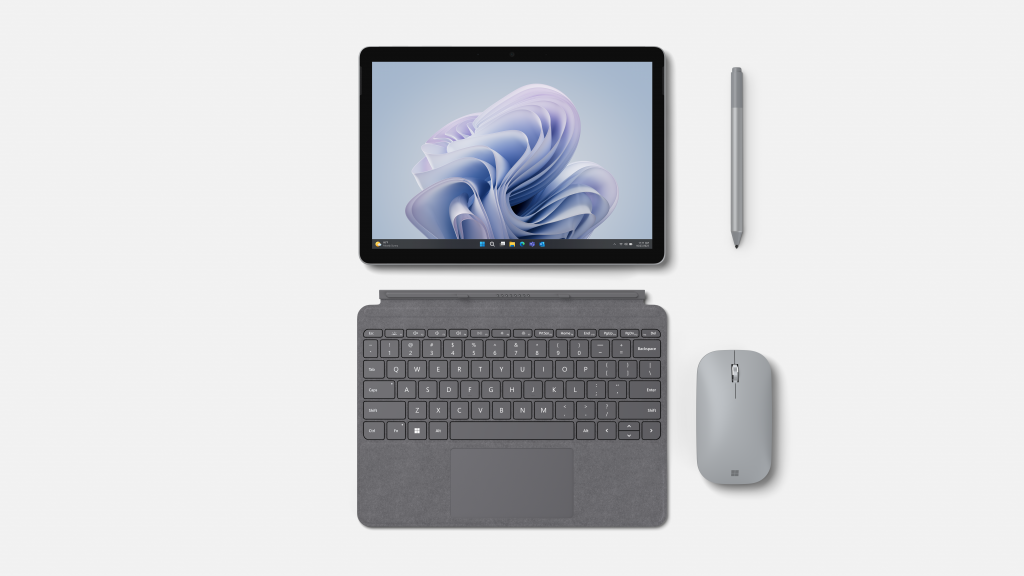 Surface Go 4 for Business is our most portable Surface 2-in-1. This fall, the new Surface Go will be available exclusively for organizations to meet the growing needs of frontline workers and educators. We can't wait to see how it will help businesses modernize and make their users more productive.
Surface Hub 3 is the premier collaboration device built for hybrid work, designed end-to-end by Microsoft. The Microsoft Teams Rooms on Windows experience is familiar and intuitive on a brilliant 50" or 85" screen. The 50" Surface Hub 3 brings entirely new ways to co-create with Portrait, Smart Rotation and Smart AV. AI-enhanced collaboration tools – like Cloud IntelliFrame and Copilot in Whiteboard – shine on Surface Hub 3.
3D printable Adaptive Pen Grips for Surface Pen have been added to our lineup of adaptive accessories enabling more people to engage in digital inking and creation than before. They are available for purchase through Shapeways or as downloadable plans for 3D printing. To hear more about how we're taking steps to close the disability divide, check out our video.
To pre-order one of our incredible new Surface devices, visit Microsoft.com, Bestbuy.com, and our Surface for Business page and blog to learn more about all of today's new products.
The new era of AI with Copilot from Microsoft is here – and it's ready for you
We believe that Microsoft is the place where powerful, useful AI experiences come together – simply, securely and responsibly – into the products you use most. Today, we showed you how we are not only increasing the usefulness of these experiences, but we are expanding them​. From Windows 11 as the destination for the best AI experiences to empower people using it at work, school and home​. To Microsoft 365, the most trusted productivity suite on the planet​. To Bing and Edge, the most innovative search engine and browser available​. All of it coming together on Windows 11 PCs like Surface​. And with Copilot helping you get things done, helping you create and connect to people you care about or the world around you​. We can't wait to see what you can do with these experiences.
Learn more on the Microsoft 365 blog and the Security blog. And for all the blogs, videos and assets related to today's announcements, please visit our microsite.
[1] Data represents top 20% of users by volume of searches across M365 services, emails received, and sent and read chats in Teams, respectively.
[2] Microsoft annual Work Trend Index 2023- Work Trend Index | Will AI Fix Work? (microsoft.com)
[3] Data reflects the top 20% Windows devices by app volume per day.
[4] Generative erase in Microsoft Designer is generally available to try today, with generative expand and fill coming soon.
[5] Survey of 941 creators commissioned by Microsoft in June 2022.
[6] Tested by Microsoft in September 2023 using CineBench 2024 GPU benchmark comparing Surface Laptop Studio 2 with RTX 2000 Ada Generation to MacBook Pro14" with M2 Max 19 12 core / 30 core configuration.
Tags: AI, Bing, Designer, Microsoft 365, Microsoft Copilot, Microsoft Edge, Surface, Windows 11